Sulforaphanes are a class of phytochemical. A phytochemical is:
A product from plants that is not a vitamin or mineral
No known required amount in the diet
Have health promoting benefits.
Brassica or cruciferous vegetables are the main source of sulforaphanes. There are 375 varieties of brassica vegetables that include arugula, bok choy, broccoli, broccoli rabe, brussel sprouts, cabbage, cauliflower, collard greens, dandelion, kale, mizuna, radicchio, radishes, and turnips, just to name a few. The sulfur component of this phytochemical is what makes these foods bitter, which makes some people turn their nose up to these power packed foods.
Ever wonder how you should eat these foods to get the benefits of the sulforaphanes from those bitter power packed foods? Read on! The key in getting the most nutrients is to chop the food to get the active component working in our bodies. Once the cell walls of the brassica plant is broken down, the enzyme myrosinase releases an active cancer fighting chemical.
These foods can be eaten raw with salt to help make them more bioavailable as in this recipe (below), or lightly steamed as these foods tend to be high in vitamin C, and the less heat the better. If you don't like the bitterness, consider roasting with a pinch of sea salt to bring out the natural sweetness of the plant or drizzle with some honey when roasting or after sautéing or steaming.
The recipe below uses maple syrup in the tahini dressing to mask the bitter component of the kale.
Easy Massaged Kale Salad
Recipe Source: Minimalist Baker at https://minimalistbaker.com/easy-massaged-kale-salad-15-minutes/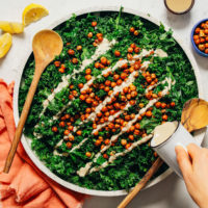 Picture Credit: Minimalist Baker
Servings: 4
Ingredients
2 large bundles curly kale, large stems removed and roughly chopped
1 Tbsp lemon juice
1 Tbsp extra virgin olive oil (if avoiding oil, omit)
1 healthy pinch sea salt
DRESSING
1/3 cup tahini
3 Tbsp lemon juice
1-2 Tbsp maple syrup (or sub agave, or honey if not vegan)
1 pinch sea salt (optional)
Water to thin (~3-6 Tbsp or 45-90 ml as original recipe is written)
TOPPINGS optional
Crispy baked chickpeas
Instructions
1. Rinse and dry the kale. Remove the green leaves from the stalky stem.
2. Stack your stalks of kale on top of each other and finely chop into bite-size pieces.
3. Place in a bowl and top with lemon juice and extra virgin olive oil. Massage the kale with clean hands for about 3 minutes. The point of massaging is to infuse the kale with the lemon juice and oil, and also to break down some of the tough, fibrous characteristics of kale. This makes it easier to chew and digest and makes for a more tender salad. Season with salt, massage/toss once more, then set aside.
4. Next prepare the dressing. Add tahini, lemon juice, maple syrup, and salt (optional) to a medium mixing bowl. Whisk to combine. Then slowly add water until creamy and pourable. The mixture may seize up and thicken at first, but continue adding water a little at a time, whisking until creamy and smooth. Taste and adjust flavor as needed, adding more lemon juice for acidity, maple syrup for sweetness, or salt to taste. Set aside. (Store leftover dressing in the refrigerator up to 5-7 days — sometimes longer.)
5. Top with desired amount of dressing and crispy chickpeas (optional), toss, and serve. Leftovers keep covered in the refrigerator up to 3-4 days (not freezer friendly).
Nutrition (1 of 4 servings)
Serving: 4 servings
Calories: 183 Carbohydrates: 10.8 g, protein: 6.9 g, fat: 14.4 g, saturated Fat: 2 g, polyunsaturated Fat: 5.16 g, monounsaturated Fat: 6.5 g, trans Fat: 0 g, Cholesterol: 0 mg, Sodium: 46 mg, Potassium: 315 mg, Fiber: 4.4 g, Sugar: 4.4 g, Vitamin A: 4013 IU, Vitamin C: 53.89 mg, Calcium: 81 mg, Iron: 2.22 mg
---
Audrey Caspar-Clark MS, RD, LDN, Doris Piccinin, MS, RD, CDE, CSO, LDN, Carly Roop, RD, CSO, MA, LDN, and Caroline Meehan, RDN, CSOWM, LDN, CDCES are the registered dietitians at the Abramson Cancer Center at Perelman Center for Advanced Medicine who specialize in cancer nutrition and provide information based on sound nutritional therapies to support patients throughout their cancer treatment.