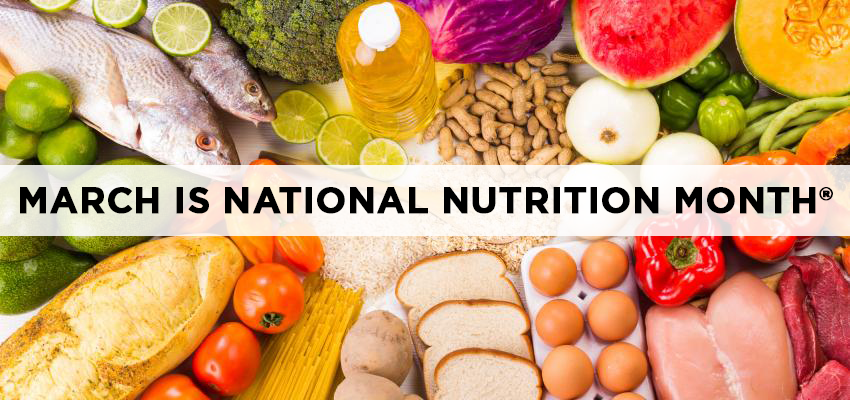 March is National Nutrition Month! To honor National Nutrition Month, our resourceful dietician friends have created a number of blogs that will post during the month of March. These blogs will cover popular nutrition topics and myths. Check back often to see what new topics are being blogged about!
"All registered dietitians are nutritionists but not all nutritionists are registered dietitians"1
What is their title?
Registered Dietitian: A registered dietitian (RD) is a board-certified food and nutrition expert. They can also be referred to as registered dietitian nutritionists (RDN).1
Nutritionist: Anyone who completes a degree in nutrition can refer to themselves as a nutritionist. This could be varying levels of education: a bachelor's degree in nutrition, a master's in nutrition, or a Master of Public Health with a concentration in nutrition.2 Also, individuals such as personal trainers with an interest in nutrition could claim to be a nutritionist. There are no regulations in using that title.
What is their job?
Registered Dietitians: They provide evidence-based medical nutrition therapy and nutritional counseling. An RD can help diagnose and treat illnesses.3
Nutritionists: They typically work with individuals or populations to teach them more about general nutrition, food, and health. This includes working with individuals to devise and implement meal plans that improve nutrition.3
How do you become one?
Registered Dietitian: In order to become an RD, you must obtain a bachelor's degree or equivalent credits through an Accreditation Council for Education in Nutrition and Dietetics (ACEND) accredited Didactic Program in Dietetics (DPD) or Coordinated Program (CP) with a focus in dietetics at a university or college. Following this, they must complete 1200 hours of supervised practice. Once this is complete, they can sit for their board examination administered by the Commission on Dietetic Registration (CDR). If they pass, they become a registered dietitian certified through the Academy of Nutrition and Dietetics.2
Nutritionist: As stated before, anyone who completes a degree in nutrition can refer to themselves as a nutritionist. It is important to note that some states do not require certification, so it is possible for anyone in those states to offer nutrition advice.
Where can they work?
Registered Dietitian: RD's are qualified to work in hospitals, outpatient facilities, research institutions, food service facilities, local community organizations, sports nutrition, and corporate wellness programs, universities and medical centers, research areas, and private practice just to name a few. Certain states in the US require that RD's are not only registered through the Academy of Nutrition and Dietetics but also through the state licensure program.
Nutritionist: Nutritionists usually work in non-clinical settings. Jobs can include providing advice and counseling to clients on nutritional and dietary matters, working via a social media page, in holistic or alternative medicine clinics and centers, fitness and beauty centers, private practice, and community centers.4
Insurance Coverage for Services
Registered Dietitian: In addition to self-pay and private insurance, RDs can accept public or government insurance on behalf of clients in the form of Medicare and Medicaid. Medicare covers individuals with diabetes (all types except prediabetes) and kidney disease (except inpatient dialysis) and for three years following a kidney transplant.5
Nutritionist: Nutritionists cannot seek reimbursement from insurance.
Limitations
Registered Dietitian: Dietitians can only make nutritional diagnoses, not medical.
Nutritionist: Nutritionists are limited in what they can do in many states. Since nutritionists do not necessarily have a certification, license or clinical experience, they might not be allowed to perform specific nutrition counseling or diagnose and treat medical conditions. A nutritionist cannot make nutritional diagnosis.2
Continuing Education Requirements
Registered Dietitian: RD's are required to participate in Continuing Professional Education (CPE) in order to keep their licensing. Every five years they can re-certify if they have spent at least 75 hours doing either coursework, self-study, or online modules. RD's must stay up to date on nutrition science.
Nutritionist: Nutritionists are not required to continue their knowledge or education.
When seeking help about your diet and nutrition status it is important to be aware of the differences between a Registered Dietician and a Nutritionist. If you have questions or would like help regarding your nutrition ask your provider for advice about who you should see.
References
Every Registered Dietitian Is a Nutritionist, but Not Every Nutritionist Is a Registered Dietitian. Eatrightpro.org. https://www.eatrightpro.org/about-us/what-is-an-rdn-and-dtr/what-is-a-registered-dietitian-nutritionist/every-registered-dietitian-is-a-nutritionist-but-not-every-nutritionist-is-a-registered-dietitian. Accessed February 16, 2021.
Nutritionist vs Dietitian: Degree and Careers Comparison. Public Health Degrees. https://www.publichealthdegrees.org/careers/become-registered-dietitian/dietitian-vs-nutritionist/. Accessed February 16, 2021.
Tinsley G, Richards L. Nutritionist vs. dietitian: What is the difference?. Medicalnewstoday.com. https://www.medicalnewstoday.com/articles/nutritionist-vs-dietician#training. Published 2020. Accessed February 16, 2021.
Nutritionist Career | Job Description for a Non-Licensed Nutritionist. Nutritioned.org. https://www.nutritioned.org/nutritionist.html. Accessed February 16, 2021.
Ulatowsk K. Guide to Insurance and Reimbursement. Today's Dietitian. 2017;(2):40. https://www.todaysdietitian.com/newarchives/0217p40.shtml. Accessed February 16, 2021.
---
Paige Dietz is a student dietetics volunteer at the Penn Abramson Cancer Center. She is currently working towards her second degree in nutrition at La Salle University in Philadelphia, PA. In 2013, Paige obtained her BBA in marketing at LIM College in New York, NY. Paige made the decision to return to school after realizing her curiosity in nutrition, and ambition to have a career that would make an impact. When Paige is not studying, you can find her in the kitchen cooking up nutritionally dense recipes with whatever she can find in her refrigerator or taking her dog for walks around the city. After school, Paige dreams of having a career as a Registered Dietitian working with oncology patients, educating them about nutrition during their treatment.