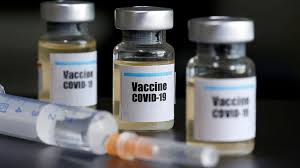 What is the COVID-19 vaccine?
The COVID-19 vaccine is used to give your body immunity to the coronavirus (COVID-19). There are two vaccines currently available. These vaccines use a technology called messenger RNA (mRNA). mRNA vaccines are a new type of vaccine for infectious diseases, but researchers have been studying and working with them for decades. They teach our cells how to make a protein that triggers an immune response inside our bodies. From that, our bodies produce antibodies, which is what protects us from getting infected if the COVID-19 virus enters our bodies. Unlike many vaccines, mRNA vaccines do not contain the virus.
Is the COVID-19 vaccine currently available?
There are two vaccines that have received Emergency Use Authorizations (EUAs) in the US from the Food and Drug Administration (FDA). They are made by Pfizer and Moderna.
An EUA, during a public health emergency, allows the use of a medical product that has not received full approval from the FDA. The FDA's Advisory Committee on Immunization Practices (ACIP) made recommendations on who should be offered the vaccine first. The ACIP recommended that the vaccine first be given to healthcare personnel and long-term care facility residents. The next groups are those that are slightly lower risk, such as elderly people and those with high-risk medical conditions. However, each state and county has its own plan for deciding who will be vaccinated and in what order. This is a rapidly changing process. Contact your local health department for more information on your state's plan.
According to CDC (Centers for Disease Control) recommendations, cancer patients or individuals with a history of cancer might be considered in the second priority group, which includes people with certain high-risk medical conditions.
How does the vaccine work?
The Pfizer vaccine is 2 doses given 21 days apart. The Moderna vaccine is 2 doses given 28 days apart. Both doses must be received for the vaccine to be effective. It takes up to 2 weeks after the second dose for the body to build maximum immunity. Both vaccines reduce the severity of illness with Covid-19.
During trials to study these vaccines, some individuals received the vaccine and others received a placebo. The placebo is a shot of saline that has no effect on the body.
Both vaccines are approximately 95% effective. Does this mean that 95 out of 100 people that received the vaccine will be protected? Not exactly. Of the 43,931 participants in the Pfizer trial, about half received the vaccine and the other half received a placebo. About a week after the second dose, they started to count the number of positive COVID-19 cases in each group. In the placebo group, 162 people tested positive for the virus. In the group that received the actual vaccine, 8 people tested positive. Researchers then did a calculation to determine the efficacy. This calculation compares the rate of infections in the 2 groups – the difference tells us that the risk of infection is reduced by 95% in the group that got the vaccine.
Should cancer patients get the vaccine?
The general consensus is that yes, cancer patients should receive the vaccine. The early data shows the vaccine to be safe. Cancer patients will be encouraged to receive the vaccine once it becomes available to them. Cancer patients, particularly those getting treatments affecting their immune system, can have a higher risk of becoming sick from Covid-19. The risks of having COVID-19 far outweigh the risks of vaccination.
There are groups that were not part of these early trials. We do not have enough data to be sure it is safe to use the vaccines in them. This includes children. In some cases, your treatment may dictate when it is best to get the vaccine so that your immune system can use it effectively. It is best to discuss the risks and benefits with your cancer care provider because everyone's case is different.
Should caregivers get the vaccine?
The current mRNA vaccines do not contain live viruses, so it does not put the person you are caring for at a higher risk of getting COVID-19 if you receive the vaccine. It is important to note that if you do get the vaccine, you may have some side effects and would want to have additional help available if you are not feeling well.
If you do receive the COVID-19 vaccine, it does not mean that you can't pass the virus to other individuals. It is still recommended that you continue to wear a mask, practice good hand hygiene, and practice social distancing to the best of your ability.
Are there side effects from the vaccine?
There are side effects that are expected after vaccination, especially after the second dose. The side effects may include:
Fever.
Chills.
Tiredness.
Headache.
Muscle aches.
Pain or swelling in the arm where the shot was given.
In our next vaccine blog…
We will be discussing the FDA approval process in more detail. We will explain what emergency use authorization (EUA) means and how it is different than standard FDA approval. Additionally, the initial trials did not include individuals receiving chemotherapy or radiation therapy, individuals that were pregnant or breastfeeding, children under the age of 16 and other groups so we will be discussing the importance of continued testing.
---
Courtney is a Radiation Therapist at Penn Medicine in the Department of Radiation Oncology. She completed her Bachelor's Degree in Radiation Therapy from Indiana University, and received her Master's Degree in Public Health with concentrations in Health Management and Policy and Health Education and Promotion from Benedictine University. She has fourteen years of experience in radiation therapy, which includes an expertise in proton therapy and pediatrics. Courtney has worked with OncoLink since 2014, but joined part-time in 2020 as a Global Education Coordinator and is currently developing virtual reality training modules that have been used to train radiation therapists both domestically and internationally.