March 16th: The first day of spring break for Thomas Jefferson University. Little did I know… my spring break week would actually turn into a three-and-a-half-month hiatus from my Radiation Therapy program.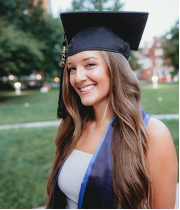 As a senior in college nearing the end of my program, all I could think about was walking across the Pennsylvania Convention Center stage and receiving my diploma. Typically, Jefferson students will have their graduation ceremony in May but continue classwork and clinical hours throughout the summer until August. No one, myself included, really expected COVID to throw a wrench in our plans the way it did. But sure enough, in mid-March measures were taken to ensure the students' safety: classes turned virtual and clinical was suspended.
Everyone in my program felt uneasy and each day "off" added to the anxiety. When can we get back to clinical? How will we have our boards review? Can we still have our graduation ceremony? Will we even finish on time?
It seemed like no one had an answer to any of our questions. In the meantime, we learned from lectures online and took exams at home, we joined virtual lab sessions to keep up on our clinical practices, and we had weekly Zoom meetings with our program instructor to discuss any new updates. Our Honors Society induction came and went, then it was rescheduled virtually. Our boards review date came and went, then it was rescheduled virtually. Our graduation ceremony date came and went, and later on was rescheduled – you guessed it – virtually.
And then FINALLY at the end of June, all the guessing came to a halt and we got the "okay" to start back at clinical in July. My instructor, who typically required double the number of competencies recommended by the national credentialing program, revised our clinical requirements to match exactly what was needed to become certified, we were given 2 face shields, fit tested and given n95 masks, and were not allowed in any known COVID-positive patients' treatments in order to keep us as safe as possible while still continuing our education and competency evaluations.
I was committed to finishing my program on time and with a lot of determination and just the right amount of treatments coming through, I did just that! I finished all of my competencies with a week to spare. I got A's on all of my cumulative exams. I finished my program Summa Cum Laude and received my diploma in the mail. I scheduled my boards for September 17th and passed with a 92%.
Despite COVID's efforts to hinder my education, I was able to persevere through the changes and am now Haley Zukowski-Echols, RT(T)!
---
My name is Haley Zukowski-Echols. I am 22 years old and I live in Philadelphia, Pennsylvania. I am a recent graduate of Thomas Jefferson University's Radiologic Sciences program, through which I received a Bachelor's degree in both Radiography and Radiation Therapy.