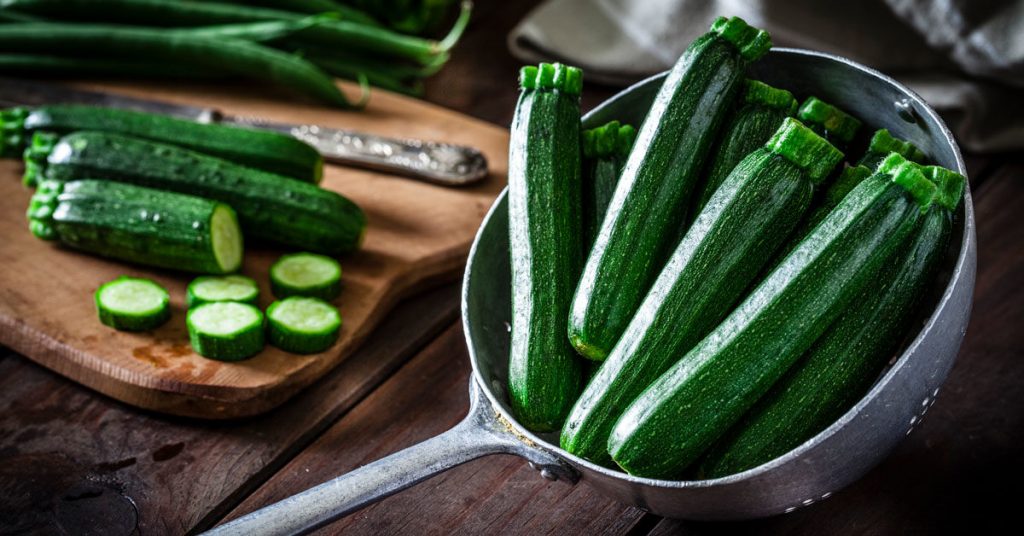 Zucchini is rich in the carotenoids lutein and zeaxanthin, as well as magnesium and vitamin K, making them important for bone health. Zucchini can be consumed raw or cooked. Raw zucchini is wonderful for dipping with hummus, salsa or fat free dips. Grilled and roasted zucchini is a wonderful side dish when well-seasoned with garlic, and spices and herbs of your choice. Don't be afraid to incorporate zucchini all year long–not just in the summer!
A good way to diversify the use of zucchini is the zucchini boat recipe listed below. You can modify this recipe using green peppers, eggplant, portabella mushrooms, summer squash or even jalapeno peppers as your base. We suggest blending the inside of the zucchini to thicken salad dressings or soups.
Ingredients
2-4 small Zucchini
1-2 Tbsp olive or avocado oil
1-2 Tbsp Onion, chopped
1-2 Tbsp mushroom chopped
1-2 Tbsp celery chopped
1-2 Tbsp green pepper, chopped
Optional (left over 1-2 oz turkey sausage or steak)
¼ cup shredded cheddar cheese
Directions
1. Preheat oven to 400F
2. Trim ends of zucchini and cut zucchini in halves lengthwise.
3. Scoop out inside of zucchini, cube and set aside (or use blended for salad dressings or soups as a thickening agent).
4. Season zucchini with olive oil and salt and pepper and place into baking dish. Cook for 20 minutes.
5. Meanwhile, sauté olive oil, add onion, mushroom celery and green pepper ~ 5min. Add desired seasonings and crushed garlic. if using sausage or steak, warm with vegetable mix 1-2 minutes.
6. Once zucchini is baked, distribute vegetable mix (meat if using) between zucchini boats.
7. Top with shredded cheese and bake for 5 minutes until cheese is melted!
Recipe source: https://tasty.co/recipe/steak-and-veggie-zucchini-boats
---
Audrey Caspar-Clark MS, RD, LDN, Doris Piccinin, MS, RD, CDE, CSO, LDN, Carly Roop, RD, CSO, MA, LDN, and Caroline Meehan, RDN, CSOWM, LDN, CDCES are the registered dietitians at the Abramson Cancer Center at Perelman Center for Advanced Medicine who specialize in cancer nutrition and provide information based on sound nutritional therapies to support patients throughout their cancer treatment.