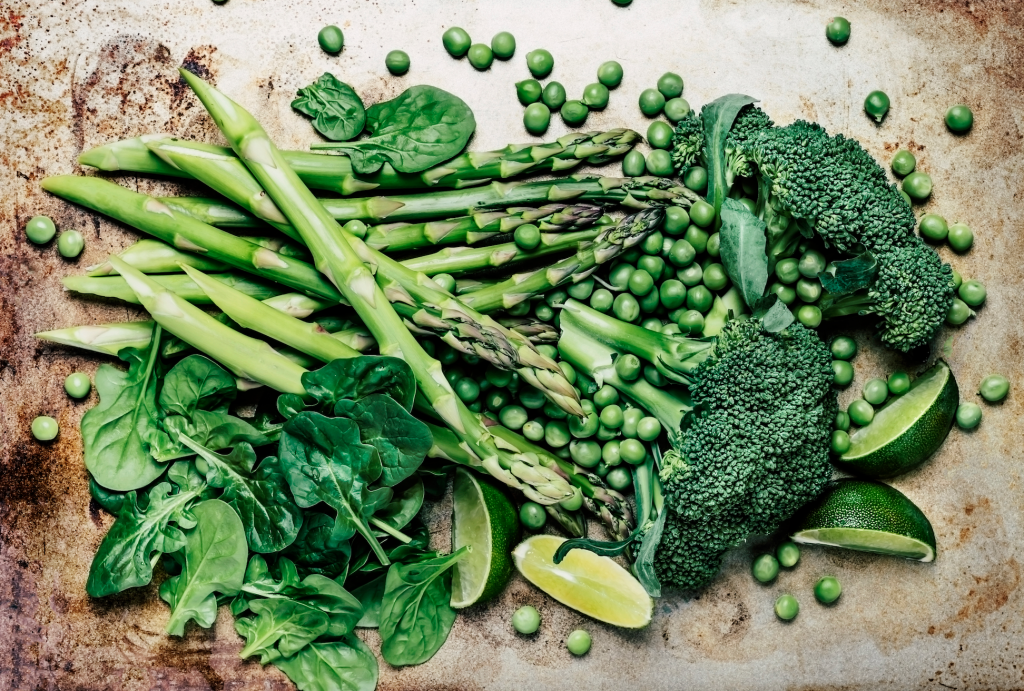 Looking for ways to add more greens to your diet? Here are a few recipes to help you do just that.
Garlicky Spinach
Ingredients:
2 packages frozen spinach
4-6 cloves crushed garlic
2 Tbsp olive or avocado oil
Salt and pepper to taste
Directions: Microwave frozen spinach 5-7 minutes. Squeeze out liquid. Meanwhile, heat oil. Add garlic and cook 1-2 minutes. Add spinach, until warmed. Season to taste and serve.
Potatoes, peas and mint
Ingredients:
1 ¼ lbs baby red skin potatoes
½ cup fresh or frozen peas
2 tbsp olive oil
1/3 c. chopped mint leaves
¾ tsp coarse salt
Freshly ground pepper
Directions: Cook 1 ¼ lbs baby red potatoes in a pot of boiling water until easily pierced with a fork (11-14 min); drain. Halve potatoes. Simmer or microwave ½ cup fresh or frozen peas with water until tender (2-4 min). Drain peas reserving ¼ c of the cooking liquid. Using a food processor or fork, crush peas with 1tbsp of olive oil and 2 tbsp of the reserved cooking liquid. Gradually stir in the rest of the reserved cooking liquid until mixture is thick and chunky. Toss potatoes with pea mixture, 1/3 c chopped mint leaves, ¾ tsp salt and some freshly ground pepper. Drizzle with 1 tbsp olive oil.
Asparagus Risotto
Ingredients:
2 tsp olive oil
½ onion
1 clove garlic
1 cup Arborio rice (a special type of rice that has more amylose carbohydrate chains making it creamier for this recipe-DON'T substitute other rice)
1 cup chopped asparagus
3 cups broth (vegetable or chicken)- (You can replace 1 cup of broth with 1 cup white wine if you have it by subsisting 2 cups broth and 1 cup of white wine) *
Parmesan cheese or nutritional yeast (nutritional yeast—amazing likeness to parmesan if you are going vegan)
Directions: Heat pan before adding oil (helps prevent sticking and requires less oil). Once the pan is warmed, add oil and rice. Coating the rice with the oil is the key to recipe. Add the onion first, then asparagus and sauté 2-3 minutes, then add crushed garlic. Next, add rice until it has been coated with oil. Add broth, stirring constantly. Once at a boil, bring to medium low, still stirring every few minutes. Once all the fluid has been incorporated, add parmesan cheese or nutritional yeast.
---
Audrey Caspar-Clark MS, RD, LDN, Doris Piccinin, MS, RD, CDE, CSO, LDN, Carly Roop, RD, CSO, MA, LDN, and Caroline Meehan, RDN, CSOWM, LDN, CDCES are the registered dietitians at the Abramson Cancer Center at Perelman Center for Advanced Medicine who specialize in cancer nutrition and provide information based on sound nutritional therapies to support patients throughout their cancer treatment.