By Maddie Hunter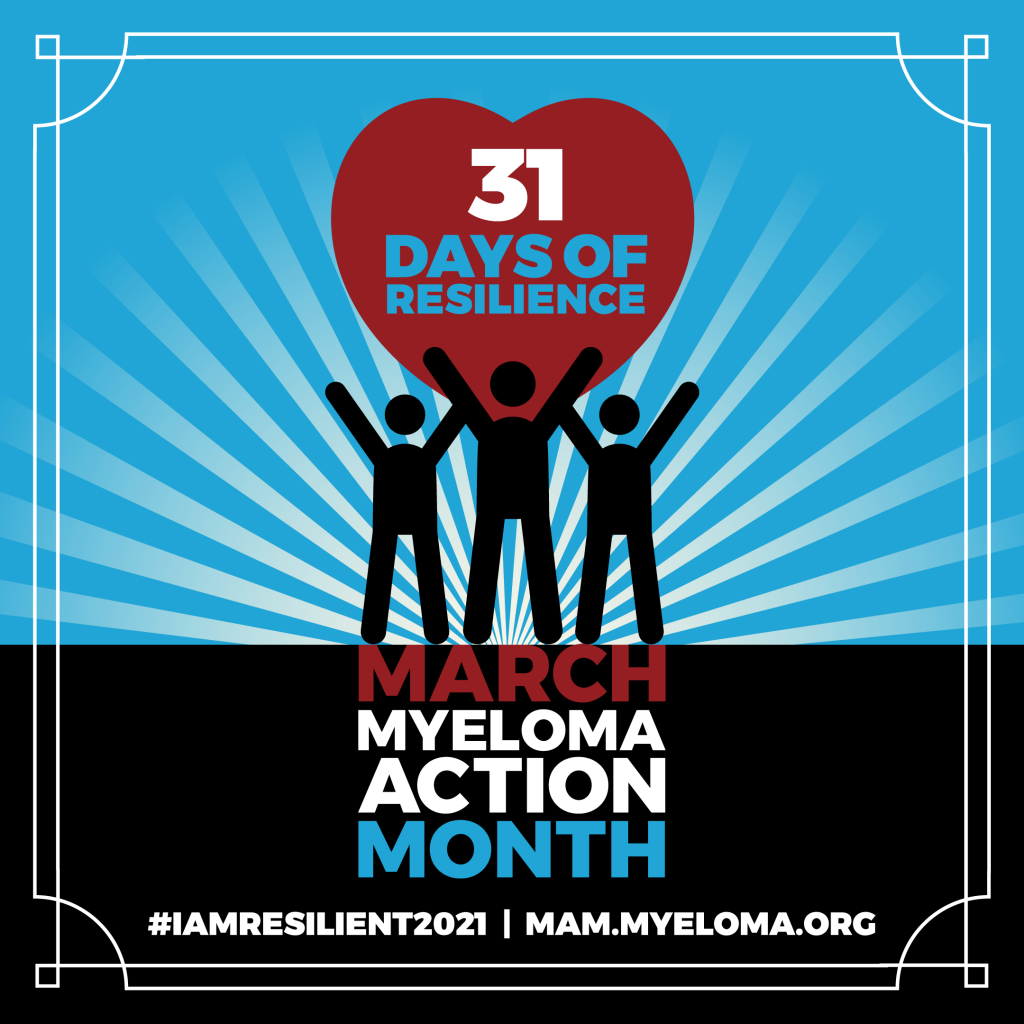 I will never forget the words of my stem cell transplant doctor on that New York City summer day in 2001. We spoke shortly after my arrival at the hospital. He listened to me reviewing all the steps I had taken to be prepared, including the completion of my will and a guardianship plan for my 9-year-old.
"Maddie, you sound better prepared to die than to have an amazing future."
That conversation with my doctor helped me to realize that planning was one of the ways I channeled my anxiety about being diagnosed with multiple myeloma. Staying busy. That became my new mantra.
Staying Busy Wasn't Enough
It didn't take long for me to discover that staying busy wasn't enough to help me adapt to the ups and downs of my treatments. I wanted to be resilient but some days I just was too tired to do more than the basics. This was discouraging.
I began talking with other patients about how they were managing to stay happy and hopeful. I spoke with dozens of patients over the phone and in the support group meetings I attended. I was amazed to discover how many myeloma patients were leading happy, meaningful lives. Many didn't talk about bouncing back into the lives they had before diagnosis. Some described something new evolving. This captivated me. I learned a lot from these conversations.
Use What You Already Know
Most of us have encountered challenges in life. After divorce and infertility, I learned how to create a new kind of normal in my life. Living through these challenges had changed me; had enabled me to learn new ways to adapt. I put this experience to use with myeloma. I found a therapist to provide me with a place to explore the strong feelings of grief and loss I was experiencing. I joined a support group where I could become educated as well as be amongst people who understood what I was going thru. Slowly I could feel my focus widening beyond the side-effects of my medications or how to stay infection-free while working.
Become A Beginner
Somewhere in my third year of treatment for myeloma, I was getting tired of how central my illness had become in my life. I decided to shake things up a bit by joining a women's writing group. I didn't think of myself as a writer, but I liked the women very much, so I decided to give it a try. We wrote together and exchanged things written at home. I found an inner poet. The joy of discovering a new interest bolstered my sense of hope and knowing that I was more than my myeloma!
Over the years, I've become a beginning Spanish student and more recently a mixed-media collage artist. Allowing myself to get out of my comfort zone has enabled me to tolerate more of the unknowns that continue to face my myeloma journey.
Practice Joy
Before my cancer journey began, I had never considered joy and cancer as going together. However, one day, when I was feeling pretty down, a friend suggested I act "as if" I was feeling joy. I laughed at the thought and she instantly said, "See, it's working!". She further urged me to tell her times when I had felt joy. I remembered the moment my baby son was placed in my arms. I recalled the first time a sweetheart offered me a floating bouquet of blossoms. One memory triggered another time of joy. My mood started to lift. My friend then announced, "You are practicing joy". This lesson was profound for me. I realized that my mood was much more in my control than I had thought.
Now I have found other ways to practice joy. Taking a walk and lingering over some beautiful thing that catches my eye fills me with joy. Recently, the way the snow stays nestled in the crooks of trees in the woods near my home brings me delight. I know these moments may be fleeting but they continue to teach me that despite the status of my illness, there is joy to behold and experience.
Join A Support Group
I have been beyond fortunate to have lived for 20 years with myeloma. I am so grateful for the members of my support group for continuing to share how their lives have helped them to grow resilience. We explore together, find solace together and educate one another. If you would like more information about how becoming part of a support group could assist you growing resilience in your myeloma journey, feel free to contact me at [email protected].
---
Maddie Hunter and her partner live in Ossining, NY. Their blended family of 3 kids and 3 grandchildren have helped them to stay agile. Maddie co-leads the Philadelphia Multiple Myeloma Networking Group. On February 1, 2020, she celebrated her 20th year living with Myeloma.