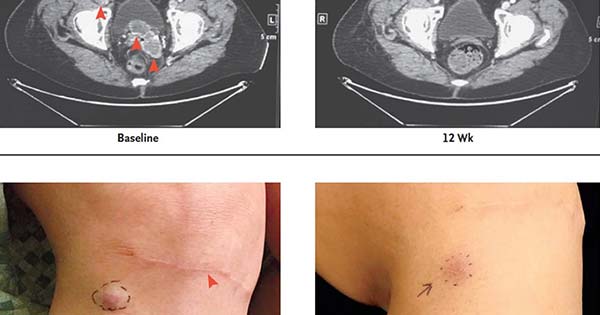 February 4, 2019, by NCI Staff
The Food and Drug Administration (FDA) has approved the immunotherapy drug pembrolizumab (Keytruda) to treat people with advanced Merkel cell carcinoma (MCC), a rare and deadly form of skin cancer. The December 2018 approval covers use of the drug in people with locally advanced or metastatic MCC, which occurs most often in older people and those with weakened immune systems.
No approved treatments existed for this form of skin cancer until 2017, when FDA approved the immunotherapy drug avelumab (Bavencio) to treat advanced MCC. Both avelumab and pembrolizumab are immune checkpoint inhibitors.
In the last 2 years, "there has been a complete sea change in the way we manage advanced Merkel cell carcinoma," said Isaac Brownell, M.D., Ph.D., of the dermatology branch of the National Institute of Arthritis and Musculoskeletal and Skin Diseases. For patients with advanced disease, Dr. Brownell said, a checkpoint inhibitor as the initial, or first-line, treatment "has become the standard of care."
Until recently, metastatic MCC was treated with the same chemotherapy regimens that are used for small-cell lung cancer because both are cancers of neuroendocrine cells, explained Dr. Brownell, who is also an adjunct investigator in NCI's Center for Cancer Research. Historically, prognosis for people with advanced MCC has been very poor, with only 10% of patients surviving 3 years after starting chemotherapy. In contrast, 64% of patients who received pembrolizumab as a first-line therapy were alive after 3 years.
"Immunotherapies have really provided new hope for patients with advanced Merkel cell carcinoma," Dr. Brownell said.
Unleashing the Immune System
Paul Nghiem, M.D., Ph.D., of the Fred Hutchinson Cancer Research Center, helped lead the clinical trials that led to the FDA approvals of both avelumab and pembrolizumab to treat MCC. A dermatologist, Dr. Nghiem recalls that when he first started treating patients with skin cancer, almost 20 years ago, doctors had little understanding of how to treat their patients with MCC.
But about a decade ago, researchers discovered that close to 80% of MCC cases in the United States are driven by infection with a virus, the Merkel cell polyomavirus (MCPyV). Researchers also found that patients with MCC who had a strong immune response within their tumors tended to have better outcomes. And they knew that people who had compromised immune systems were much more likely to develop MCC.
Doctors suspected that boosting patients' immune responses could help them fight MCC. Even so, Dr. Nghiem said, doctors were surprised by how well immunotherapy worked. "Certain kinds of cancers are more visible to the immune system than we expected," he said. MCC, regardless of its cause, appears to be one of them.
Almost 40% of patients in the trial that led to the pembrolizumab approval did not have MCPyV in their tumors, Dr. Nghiem said, but responded just as well to immune therapy. Mutations caused by excessive exposure to sunlight are thought to cause the remaining cases of MCC.
"The immune system can recognize either a virus or mutations," Dr. Nghiem explained.
Pembrolizumab, which FDA first approved in 2014 to treat melanoma, has now been approved to treat more than a dozen types of cancer, including cancers in a wide range of tissues that have specific genetic features that cause them to accumulate many mutations.
For several cancers, including MCC, FDA granted pembrolizumab an accelerated approval, based on promising results from relatively small numbers of patients. "That means FDA is far from done with evaluating the data and, in fact, requiring additional supporting data. More trials are ongoing to validate these findings," Dr. Nghiem said.
The lack of any approved therapy for MCC before 2017 accounted for FDA's expedited review of both immunotherapy agents, Dr. Brownell explained.
The trial that led to pembrolizumab's approval enrolled 50 patients with advanced MCC. The overall tumor response rate was 56%, the same response rate reported in a smaller 2016 study. Among the patients with responses, more than half had a response lasting more than a year. Seven of the 50 patients discontinued treatment because of side effects, but several of those patients had long-lasting cancer responses after discontinuing pembrolizumab.
The Order and Combination of Treatments
"It's much more effective to use immunotherapy and to use it first," Dr. Nghiem said, rather than to give patients with advanced MCC chemotherapy first. The cancer will recur in more than 90% of patients who are given chemotherapy, Dr. Nghiem said, and those who have already received chemotherapy are significantly less likely to respond to subsequent immunotherapy.
"The chance of a response persisting is about 10 times higher for immunotherapy," he continued, as long as it is given before chemotherapy.
Researchers are continuing to study how to further improve outcomes in people with advanced MCC. Different approaches being studied include combining immunotherapies or combining immunotherapy with radiation treatment or chemotherapy. Sometimes, Dr. Nghiem said, it is necessary to "bridge" patients from one trial or novel therapy to another.
Although treatment of advanced MCC has progressed remarkably in the last 2 years, "we still can't even remotely reliably predict who's going to respond [to immunotherapy] in the first place or who's going to respond persistently," Dr. Nghiem cautioned. "And we don't know the best way to help patients who don't respond. So a lot still needs to be done."
A further issue is that many patients with MCC may not be optimal candidates for immunotherapy because their immune systems have been suppressed—for example, because they are organ or graft recipients or have lymphoma or HIV. Others may have autoimmune diseases and be unable to risk activating their immune systems. For the most part, such patients were excluded from the immunotherapy trials. But, in some cases, it may be appropriate to consider them for immunotherapy, Dr. Nghiem said, since case reports have documented good outcomes in some of these higher-risk patients.
Researchers are trying to develop targeted therapies for such patients. For example, Dr. Brownell's research group is using high-throughput drug screening techniques to try to identify medications for MCC patients who are not eligible to receive checkpoint inhibitors or don't respond to them.