You never know what will happen when you plant those tiny seeds in early spring. This year did not disappoint when it comes to cucumbers! Mine are going bananas- I am picking 2-3 every day. So, what am I doing with them? Making salads, pickles and just snacking on them with some hummus. These 2 recipes have been put to good use this year – hope they can help you find something new to do with your 'cukes!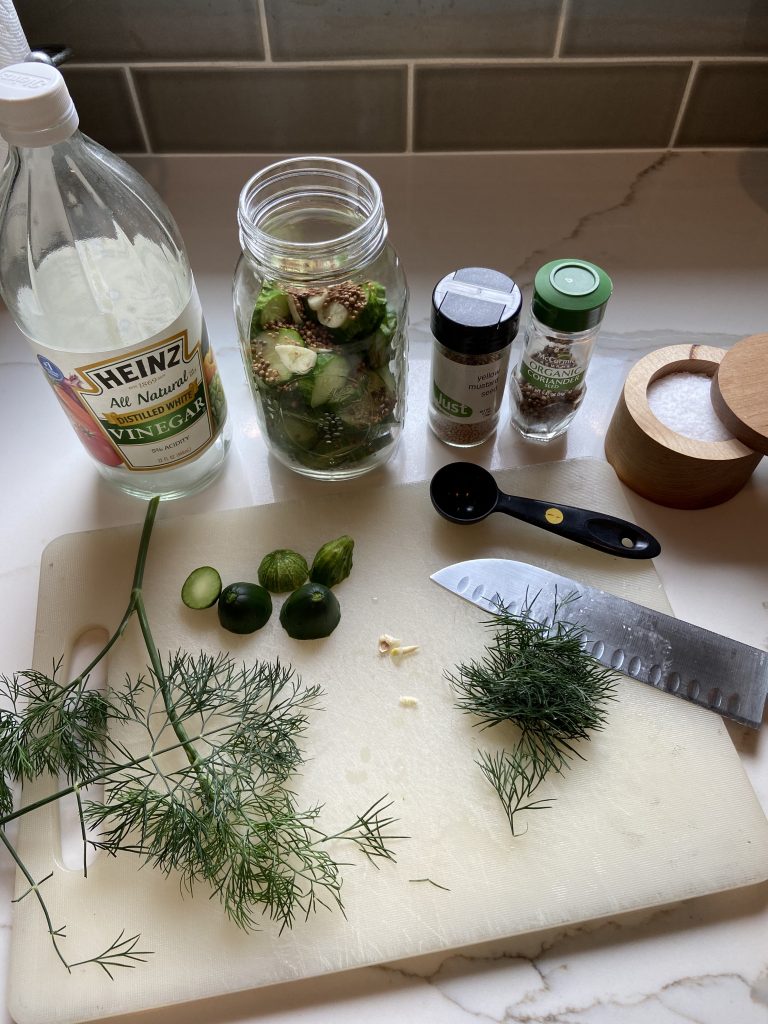 Homemade Pickles
1 ¼ cups distilled white vinegar
3 Tbs kosher salt
2 Tbs sugar
2 cups water
Cucumbers (I have been growing a pickling variety, but any will do)
Coriander seeds, about 1 Tbs per quart jar
Mustard seeds, about 1 tsp per quart
Garlic cloves, sliced
Fresh dill, chopped
Red pepper flakes (optional)
Combine the first 4 ingredients in a saucepan. Heat and stir until salt & sugar dissolves. Remove from heat and allow to cool.
Cut cucumbers into slices or spears and divide them into a few jars. You can fill the jars pretty full. Add both seeds, a tablespoon of torn dill sprigs, some garlic slices (base on your taste, more means more spicy garlic flavor), and red pepper flakes (if using), into each jar. Pour the cooled liquid in to fill the jar. Put in the fridge.
I like them to sit a few days before I eat them. And they have lasted a month or more in my fridge.
Cucumber & Watermelon Salad
2 cups cut up cucumbers (remove seeds if you like, but I left them in)
2 cups cubed (or balled if you're feeling adventurous) seedless watermelon
2 Tbs chopped fresh mint leaves
1/3 cup crumbled feta
Juice of a lime
Toss all ingredients together. I like to mix it an hour or so in advance to let the flavors meld. Serve chilled or room temperature.
---
Carolyn Vachani is an oncology advanced practice nurse and the Managing Editor at OncoLink. She has worked in many areas of oncology including BMT, clinical research, radiation therapy and staff development. She serves as the project leader in the development and maintenance of the OncoLife Survivorship Care Plan and has a strong interest in oncology survivorship care. She enjoys discussing just about any cancer topic, as well as gardening, cooking and, of course, her sons.