I love the smell of tomatoes in the sun.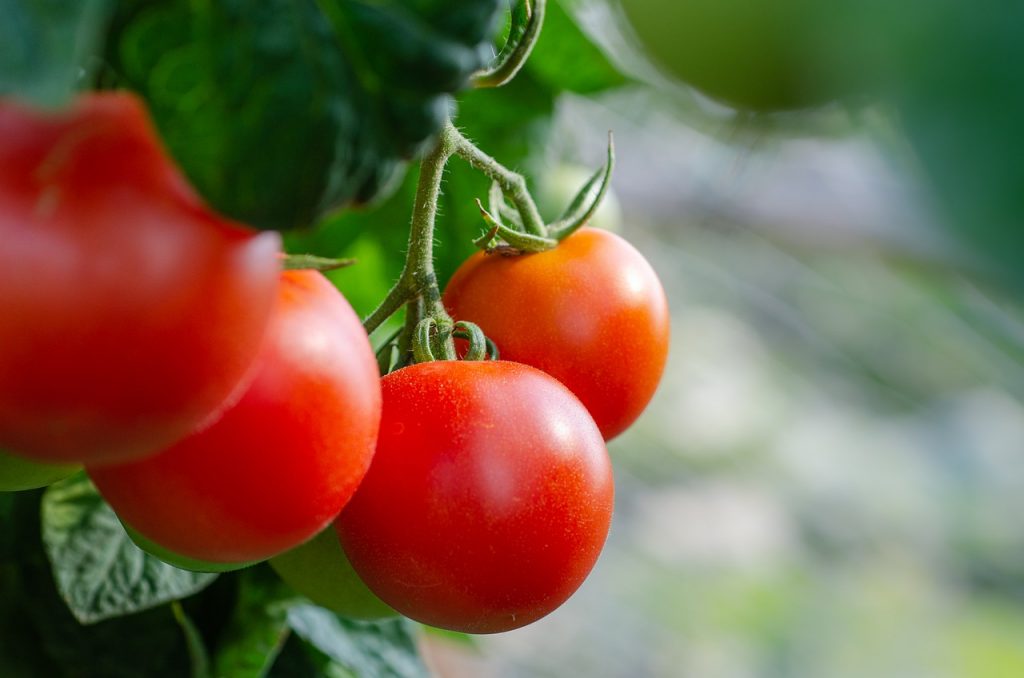 I used to have a little cherry tomato plant in my front yard as part of my urban garden. I would harvest about 30 baby tomatoes every year. But, I grew them. I tended to them. Watered them. Cut them back when they needed a trim. And out of that TLC, came my little tomato crop. One of my favorite things was to pluck a fresh tomato off the plant and pop it in my mouth. It was juicy and sweet and warm and tangy all at once.
Summer for me is all about the tomatoes.
Do you grow tomatoes? What do you do with them?
Need some tomato inspiration? Thanks to Carly Roop, RD, CSO, MA, LDN, for sharing her favorite tomato salad recipe with us.
Tomato Salad
Serves up to 8 people
2 pounds tomatoes quartered – choose your favorite variety
1 shallot-finely minced
1 clove of garlic finely minced
1 tablespoon thyme chopped
2 tablespoons parsley chopped
1/4 cup roughly chopped basil
2 tablespoons balsamic vinegar
1/4 cups olive oil
1 tablespoon agave or honey
1/4 teaspoon cayenne
Pinch salt and pepper
Simply combine tomatoes, shallots, garlic, and herbs dress with olive oil, honey, and vinegar and toss ingredients until dressing is evenly dispersed. Allow ingredients to marinate about 30 min before serving. Garnish with a few more leaves of basil thinly sliced.
The garlic and shallots may not offer a lot nutritionally but they do provide a host of phyto (plant) chemicals which show potential anticancer activity and may even play a role in lowering cholesterol levels. Parsley is commonly seen as a garnish on a plate but it's so much more, providing a source of vitamin C, iodine, iron, and many minerals. Basil and thyme contain compounds with antimicrobial and antibacterial properties. The oil of basil has been particularly effective in killing harmful bacteria found in produce. Last but not least, the tomatoes are rich in vitamin C, potassium and not to mention a good source of phytochemicals such as phytosterols, beta-carotene, and lycopene. Epidemiological studies have demonstrated that lycopene reduces the risk of prostate cancer and has heart-protective, anticarcinogenic, and anti-inflammatory properties.
This dish pairs nicely with couscous, sliced mozzarella, or as an accompaniment to grilled veggies, fish, and chicken breast but I enjoyed a bowl of it all by itself!
Recipe adapted from Raw-Vegan-Not-Gross, fun nutrition facts from 101 Foods to Save Your Life by David Grotto
---
Christina is a clinical oncology social worker and the psychosocial content editor at OncoLink. Christina blogs about resources available to the cancer community, as well as general information about coping with cancer practically, emotionally, and spiritually. Christina is also an instructor at the Penn School of Social Policy and Practice. In her spare time, she loves to knit and volunteer with her therapy dogs, Linus and Huckleberry. She also loves to travel, cook and is an avid Philly sports fan.