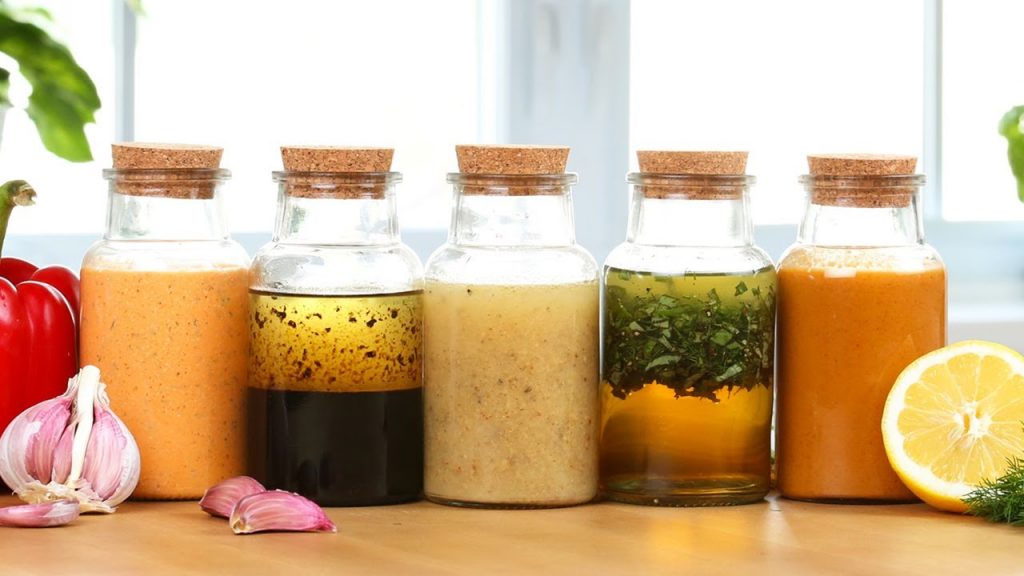 Include salad as part of your holiday meal by using this easy salad dressing. This base can be used and altered to make a marinade for salmon or turkey if that is your holiday entrée or can be used to dress up roasted vegetables.
Classic Oil and Vinegar Salad Dressing (Base to marinades and dips)
¼ cup finely minced shallots (or substitute 1-2 cloves fresh garlic), or leave out if you prefer a milder dressing
¼ cup red or white vinegar (or sherry vinegar, balsamic vinegar or Champagne vinegar)
4 teaspoons Dijon mustard
½ cup extra virgin olive oil (important to use the best quality olive oil you can find)
½ teaspoon salt
Black pepper (freshly ground if possible, to taste)
Optional: fresh or dried herbs (basil, rosemary and oregano are great for Italian and Greek salads, sage for poultry- based marinades, dill works great for fish marinades or German potato salad)
Combine all ingredients in a jar with a well-fitting lid. Shake well until incorporated. Let rest for a few minutes to allow flavors to blend. Shake well before using. Store in refrigerator.
Variations of Salad Dressing
You can use sesame oil and red wine vinegar with a dash of honey and 1 Tbsp soy sauce. Use ginger instead of garlic. Excellent for a cabbage slaw.
Use this blend for a tabbouleh salad by replacing lemon juice for vinegar or by adding lemon juice, fresh parsley, and mint for a fatoosh salad.
Modifications for Marinade:
Use this recipe as a marinade for turkey but add freshly chopped sage and 1 Tbsp maple syrup or honey to the marinade. Mustard works well to break down muscle fibers in turkey and adds great flavor.
If using salmon as your entrée, instead of Dijon mustard and the vinegar, use 2 Tbsp soy or teriyaki sauce and add 1 Tbsp maple syrup or honey. Garnish with fresh ginger or crushed peanuts.
For a rosemary cranberry infused marinade, skip the vinegar and Dijon mustard. Instead of Dijon mustard, combine the olive oil with ¼ cup dried cranberries and 1 Tbsp of honey mustard. When cooking pork chops add it in the last 20 minutes of cooking a pork loin or pork roast. Don't forget some water and flour to thicken the sauce.
---
Audrey Caspar-Clark MS, RD, LDN, Doris Piccinin, MS, RD, CDE, CSO, LDN, Carly Roop, RD, CSO, MA, LDN, and Caroline Meehan, RDN, CSOWM, LDN, CDCES are the registered dietitians at the Abramson Cancer Center at Perelman Center for Advanced Medicine who specialize in cancer nutrition and provide information based on sound nutritional therapies to support patients throughout their cancer treatment.