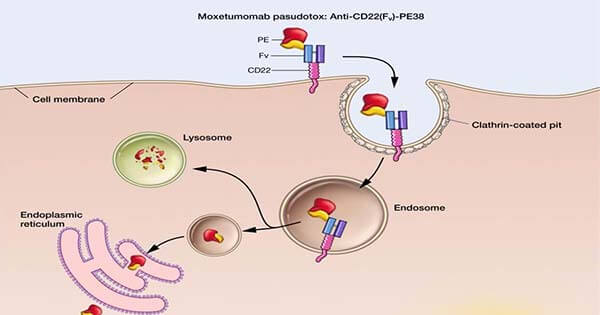 September 14, 2018, by NCI Staff
The Food and Drug Administration (FDA) has approved moxetumomab pasudotox (Lumoxiti), a bacterial toxin–based drug, for the treatment of some patients with hairy cell leukemia (HCL). The approval covers the use of moxetumomab in patients with HCL who have already undergone at least two lines of standard treatments.
The action by FDA makes moxetumomab the first treatment approved for this group of patients. The approval was based on the findings from an 80-patient clinical trial sponsored by the drug's manufacturer, MedImmune. 
In the trial, approximately 30% of patients had a complete disappearance of their cancer (complete response) that lasted for a long period, and side effects from the therapy were few and mostly minor. Overall, 75% of patients in the trial had either a partial response or complete response.
Moxetumomab was originally discovered by Ira Pastan, M.D., and colleagues in NCI's Center for Cancer Research (CCR), and later licensed to MedImmune/AstraZeneca for clinical development. 
"This is an important example of conceptually innovative research conducted at NCI that has come to practical fruition with a commercial partner," said CCR Director Tom Misteli, Ph.D. "It's the kind of work made possible by our ability at NCI to pursue long-term, high-risk research, including on rare forms of cancers such as hairy cell leukemia. Moxetumomab will make a difference in the lives of patients with this incurable disease."
Many people diagnosed with HCL will achieve remission with current treatments, explained the trial's lead investigator, Robert Kreitman, M.D., of CCR's Laboratory of Molecular Biology.
"But about 30%–40% of those patients will relapse 5 to 10 years after their first treatment," Dr. Kreitman continued.
As patients receive further treatments, although they may go into remission again, the length of those remissions gets shorter and shorter, and the toxicities of the treatments accumulate, he explained. For these patients, few effective treatments exist, which is what makes this new approval so important.
"Moxetumomab represents a promising nonchemotherapeutic treatment for HCL, addressing an unmet medical need for patients," Dr. Kreitman said.
Moxetumomab includes a special boxed warning for clinicians and patients about the risk of capillary leak syndrome, in which fluid and proteins leak out of tiny blood vessels into surrounding tissues.
Further details on moxetumomab and the clinical trial on which FDA's approval was based are available in this June 2018 Cancer Currents post.