April 25, 2019, by NCI Staff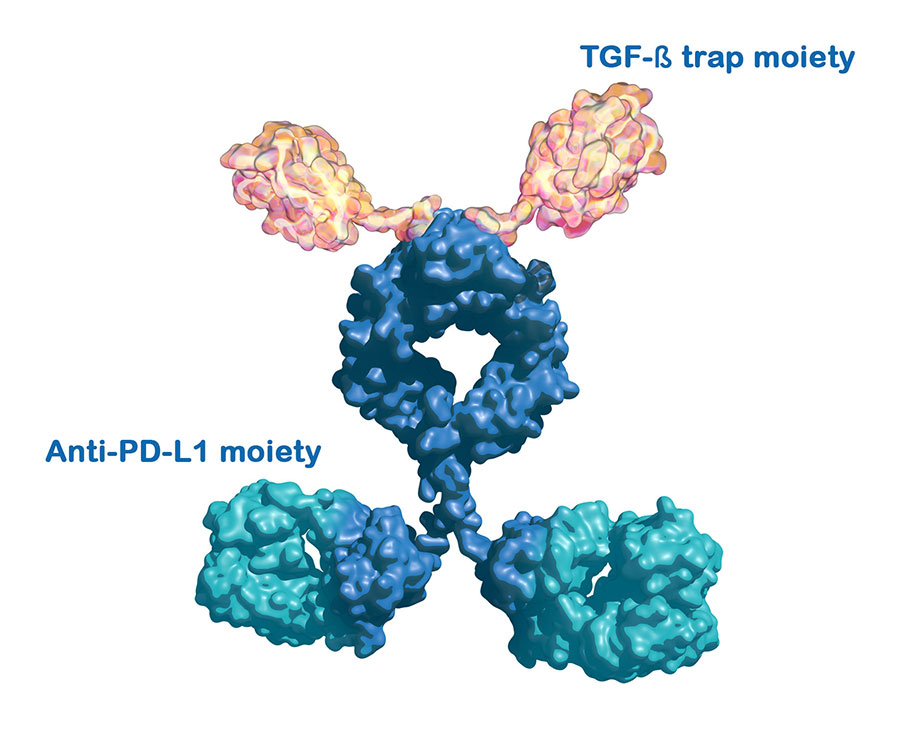 An investigational immunotherapy drug shrank the tumors of some patients with advanced human papillomavirus (HPV)-related cancers, according to results from a phase 1 clinical trial that were reported at a recent national meeting.
The drug, bintrafusp alfa (also called M7824), was designed to simultaneously bind to two target proteins—PD-L1 and TGF-beta—that help prevent the immune system from effectively attacking tumor cells.
The study included a total of 43 patients with advanced cancers, including cervical cancer, anal cancer, and squamous cell carcinoma of the head and neck. Most (36) of the patients had tumors that tested positive for HPV.
Among all participants in both trials, 35% of the patients responded to the drug (their tumors shrank). Of the 36 patients with HPV-positive tumors, 39% of the patients responded, NCI researchers reported April 1 at the American Association for Cancer Research (AACR) annual meeting in Atlanta.
Four of the responses lasted longer than 18 months, and 11 out of 15 responses were still ongoing when the data were analyzed. Two patients showed no detectable signs of cancer following treatment (complete responses).
The median overall survival among the 43 patients was 16.2 months. This "compares very favorably" to the survival of 9 to 11 months seen in patients with HPV-related cancers in previous trials testing immune checkpoint inhibitors that target PD-1 or PD-L1, noted Julius Strauss, M.D., of NCI's Center for Cancer Research (CCR), who presented the results of the trial in Atlanta.
"This drug is a promising agent for patients with HPV-related cancers and may potentially benefit these patients more than traditional checkpoint therapies," said Dr. Strauss.
The researchers saw responses in patients whose tumors were infected with a variety of carcinogenic HPV types, including HPV16 and HPV18, which are responsible for most HPV-related cancers. Patients who responded had various types of cancer, including squamous cell cervical cancer, cervical adenocarcinoma, squamous cell anal carcinoma, and squamous cell head and neck cancer.
James Gulley, M.D., Ph.D., who led the trial and is director of CCR's Medical Oncology Service, noted that the drug "was well tolerated by patients." The most common side effects included rashes and minor bleeding of the gums.
Targeting Two Signaling Pathways
Long-lasting infections with certain types of HPV can cause cancers of the cervix, throat, anus, rectum, penis, vagina, and vulva. Recent research on the biology of HPV-related cancers supports the strategy of targeting both PD-L1 and TGF-beta, according to Dr. Gulley.
Increased levels of PD-L1 have been found in HPV-related cancers. And TGF-beta is often present in the tumor microenvironment of HPV-related cancers (as well as some cancers that are not related to HPV) and may play a role in the growth, progression, and spread of tumors.
"TGF-beta also appears to play a role in preventing immune cells from infiltrating tumors," said Dr. Gulley. Reducing the amount of TGF-beta in the tumor microenvironment may enable immune cells to do their jobs and attack tumor cells, he added.
Maura L. Gillison, M.D., Ph.D., of the University of Texas MD Anderson Cancer Center, who discussed the trial during the AACR session, agreed. "It's reasonable to expect that targeting TGF-beta may work against HPV-related cancers and may augment the effects of inhibiting a checkpoint protein," she said, noting that the new findings appear to support this view.
The overall survival results from the trial are "extremely promising," Dr. Gillison added.
A phase 2 trial now under way is testing the drug in a larger group of patients with HPV-related cancers, including patients who have not received immune checkpoint therapy or have progressed during treatment with checkpoint therapy, according to Dr. Strauss.
The fusion protein is also being evaluated in cancers that are not associated with HPV. For example, a head-to-head comparison of bintrafusp alfa and pembrolizumab (Keytruda) as an initial treatment for some patients with lung cancer is under way. The drug, which was developed by EMD Serono, is also being tested as a treatment for other cancers, including colorectal and triple-negative breast cancer.
Testing a New Drug in HPV-Related Cancers
Bintrafusp alfa has been used in nearly 700 patients across 10 different tumor types in phase 1 studies worldwide since 2015, when NCI researchers first began testing the drug.
Among the first patients to respond to the drug were individuals with HPV-related cancers. Based on this observation, NCI researchers reviewed the scientific literature on TGF-beta and HPV-related cancers.
"We wanted to understand the science behind what we were seeing in the patients with HPV-related cancers who responded to the drug," said Dr. Gulley. The researchers learned, among other things, that the expression of TGF-beta may be driven by cancer-causing proteins in HPV, such as E6 and E7.
"When TGF-beta is expressed, the protein can cause multiple harmful changes to the immune system, such as reducing the activity of immune cells called T cells and reducing their infiltration into tumors," said Dr. Gulley.
But when the researchers tested serum samples from patients in the phase 1 trial presented at the AACR meeting, the levels of TGF-beta were undetectable. "Basically, patients who were receiving the treatment had no TGF-beta in their samples," Dr. Gulley said, noting that the drug appeared to be trapping the protein and removing it from the tumor microenvironment.
"This is the first fusion protein targeting PD-L1 and TGF-beta to make it into the clinic," Dr. Gulley continued. "And many people are interested in the approach."