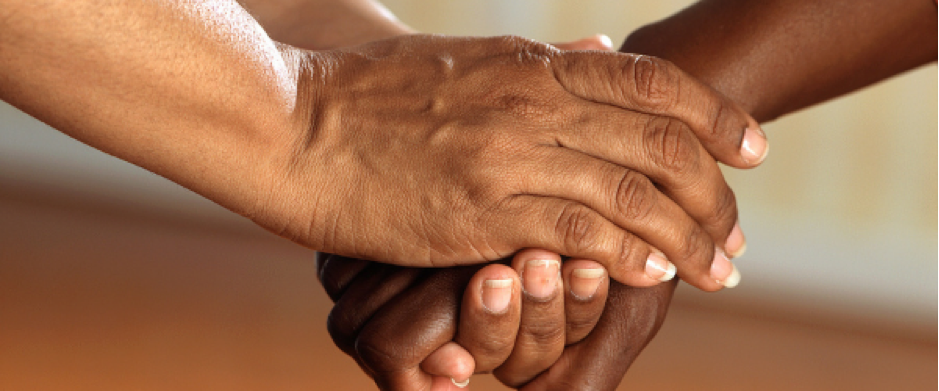 One of the ways we support and encourage our staff at the cancer center is to periodically offer a "blessing of the hands". We have also offered a "blessing of the hands" to our caregivers. This is a time where we give thanks for the work and care of the hands that provide and tend to many needs.
I imagine most of us have full hands right now. Whether you're living with cancer, working in a cancer center, learning how to homeschool your kids, grieving a lost job or opportunity, navigating all of your responsibilities from home, or just trying to get through another day of isolation and anxiety, your hands are full.
Now more than ever I'm learning the importance of holding grace and love for myself in addition to all the other things. Sometimes this means feeling weighed down for a time and sometimes it means letting go of something else to make room. Sometimes it feels like juggling and sometimes it's a balancing act. Either way, if I can't hold love for myself, then I'll eventually be so overwhelmed that I can't hold love for others.
One thing I learned from years as a chaplain is that a lot of people are simply trying to survive. When our survival techniques manifest in different needs, different coping mechanisms, and different theologies, I hope we can continue to hold grace and love for each other and for ourselves. We are all navigating new places with full hands.
I invite you to participate in this interactive blessing:
Look at your hands.
Gently rub them together, as if you were soothingly washing them.
Now look at them again and read these words for you:
May my hands find strength to do the work to which I am called.
May they offer healing to those who are sick in body or spirit.
May they offer comfort to those who are afraid.
May they offer compassion to those who are hurting.
And may there be room to hold grace and love for myself,
even when my hands feel full.
You are a person of value and worth. Receive grace and love and take on the day.
---
Lucretia Hurley-Browning, MDiv, MS, is a guest writer whose recent background includes Chaplain of Abramson Cancer Center at Pennsylvania Hospital and the Director of Juniper Tree Counseling Center. She is a therapist and ordained United Methodist Minister. Currently she is a writer by day, a reader by night, and is passionate about living life meaningfully with a good dose of fun.