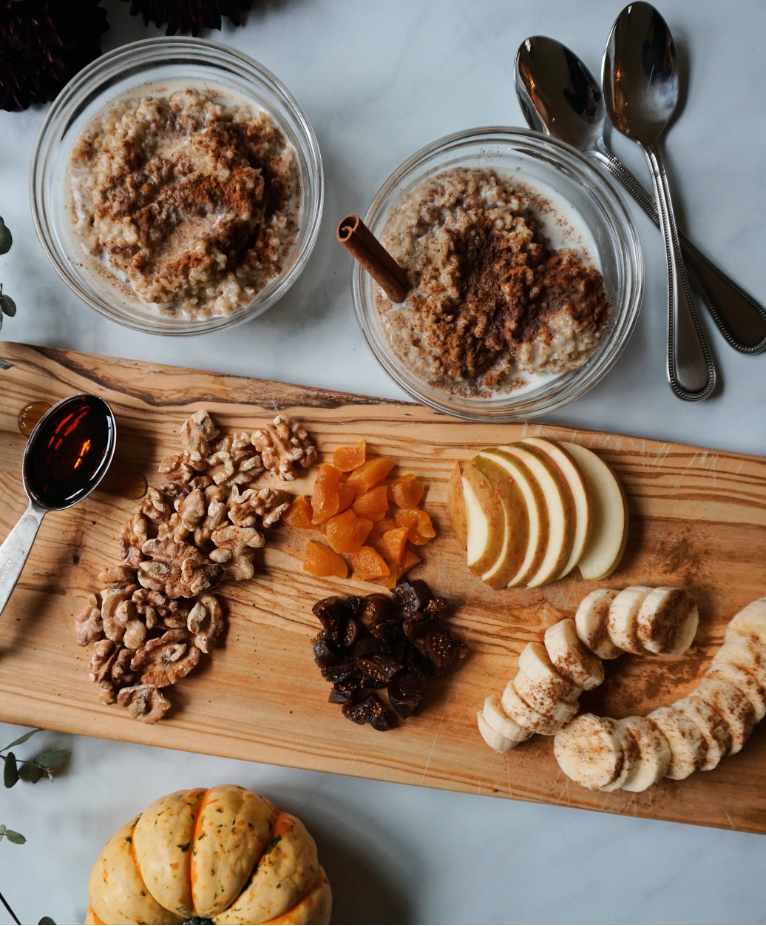 Benefits of Breakfast: Kick-start the day by incorporating a heart-healthy breakfast! Not only is breakfast a wonderful opportunity to incorporate dietary fiber, vitamins, minerals, and protein towards meeting our daily nutritional needs, a well-balanced breakfast meal may boost energy and promote blood sugar control. The simple act of enjoying a nourishing breakfast before the busy day gets started is a powerful self-care habit to stick by.
Breakfast Components: When thinking about breakfast (and most meals), there are two components to keep in mind – fiber and protein. Fiber helps to keep us full, and protein satisfied. Together, they promote satiety – which means we gain the energy and focus to get the morning started.
The American Institute for Cancer Research recommends adults aim for at least 30 grams of dietary fiber per day. So if you start the morning with oatmeal, you've begun the day by adding 4-5 grams of dietary fiber to your daily intake. In addition to fiber's satiety benefits, a recent study published by The Lancet, linked dietary fiber to a lower risk for developing several chronic diseases, including certain cancers, diabetes, and heart disease. Fiber is found in whole grains, legumes, fruits, and vegetables. When reading the food label for dietary fiber, look for products that contain at least 3 grams of fiber per serving. 5 grams of fiber per serving is even better, as this is defined as a high fiber food. It is important to increase intake of dietary fiber slowly to reduce bloating and gas, and to drink plenty of water.
Because protein aids in the feeling of satiety, or satisfaction, it is a good idea to include protein with your morning meal. Research has even shown that protein at breakfast can decrease hunger hormones and increase hormones related to satiety, meaning you'll feel fuller for longer, which has also recently been studied here. How much protein should we be eating at breakfast? Well this is up for debate, and everyone's protein needs are a bit different. Around 20-25 grams of protein for a morning meal seems reasonable, but it is important to note the most important thing is to tune into your unique nutrition and health needs. Ask to speak with a Registered Dietitian for individualized guidance!
Example Breakfast Ideas
Cottage cheese with slivered almonds, raspberries, cinnamon
Greek yogurt with walnuts/granola, berries
Breakfast sandwich or taco with eggs, avocado, tomato, and cheese
Spiced oatmeal with diced apple, pecans
Peanut butter with banana slices on whole grain bread
Breakfast smoothie blended with frozen fruit, veggies (like kale or cucumber), protein (nut butter, greek yogurt, tofu, etc.), and liquid, such as milk or a milk alternative.
Whole grain cereal: look for at least 3 grams of fiber, and less than 10 grams of sugar per serving
Recipe for Steel Cut Oats (fall-themed!)
I used steel cut oats in this recipe, but old fashioned oats work as well! Both are high in dietary fiber. Whichever you choose, cook the oats per direction (stovetop or microwave method). For these steel cut oats, I used 4 cups of water to 1 cup of oats with the stovetop method. This took about 30 minutes to cook and made enough to serve 2-4 people, depending on hunger levels!
Once the oats are finished cooking, jazz up your oatmeal. I like to think of oatmeal as the ice-cream sundae bars of breakfast. There are so many fun and delicious toppings that will work here!
Mix in a ground cinnamon, allspice, nutmeg, and a few splashes of milk to add creaminess (and calcium!) to the oats. Top with toasted walnuts, dried figs and apricots, sliced banana or apple. If you like a little sweetness, maple syrup works well in this recipe. Enjoy this hearty, fall-themed breakfast – an excellent way to start the day, as it's packed with dietary fiber, whole grains, protein, vitamins, minerals, and healthy fats!
---
Audrey Caspar-Clark MS, RD, LDN, Doris Piccinin, MS, RD, CDE, CSO, LDN, Carly Roop, RD, CSO, MA, LDN, and Caroline Meehan, RDN, CSOWM, LDN, CDCES are the registered dietitians at the Abramson Cancer Center at Perelman Center for Advanced Medicine who specialize in cancer nutrition and provide information based on sound nutritional therapies to support patients throughout their cancer treatment.