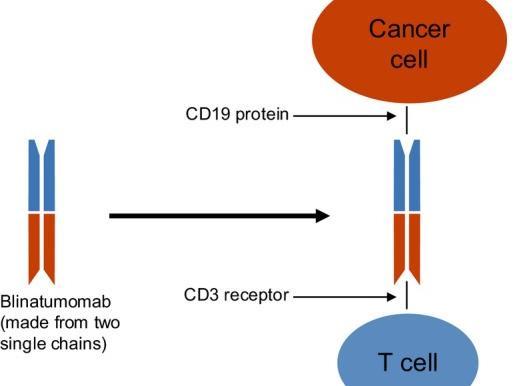 , by NCI Staff
The immunotherapy drug blinatumomab (Blincyto) is more effective than chemotherapy in treating B-cell acute lymphoblastic leukemia (B-ALL) that has relapsed in children and young adults, results from two clinical trials show.
Both trials compared blinatumomab and chemotherapy as a type of consolidation therapy after patients had achieved remission with standard chemotherapy drugs and before a stem cell transplant. All patients were considered to be at high risk for a second relapse.
In the trials, the patients who received blinatumomab had better outcomes, including how long they lived and experiencing fewer side effects, than patients who received consolidation chemotherapy.
"In addition to being more effective than chemotherapy, blinatumomab was much less toxic," said Patrick Brown, M.D., of the Johns Hopkins Kimmel Cancer Center, who led the trial that was conducted in the United States by the Children's Oncology Group (COG).
In 2019, the COG trial was stopped early when a planned analysis showed a clear advantage of blinatumomab over chemotherapy based on an assessment of disease-free survival and side effects. Updated results from the trial were published March 2 in JAMA.
The same issue of JAMA includes results from the second trial, conducted by European researchers, which showed that blinatumomab was superior to further chemotherapy in terms of event-free survival.
"These two trials establish blinatumomab as a new standard treatment for children and young adults with high-risk relapsed B-ALL when used after remission has been achieved and before a stem cell transplant," said Malcolm Smith, M.D., Ph.D., of NCI's Cancer Therapy Evaluation Program, which sponsored the COG trial.
The trials did not evaluate identical treatment regimens, Dr. Smith noted. The number of courses of chemotherapy given prior to blinatumomab differed between the trials, as did the number of courses of blinatumomab.
"More research is needed to determine how best to use the drug," Dr. Smith said. "Nonetheless, both studies showed that using blinatumomab as an alternative to giving patients more chemotherapy produced the best outcomes."
An Aggressive Leukemia
B-ALL is an aggressive type of leukemia in which too many immature white blood cells, known as B-cell lymphoblasts, are present in the bone marrow and blood. Children and other younger patients diagnosed with B-cell ALL are initially treated with chemotherapy to put their cancer into remission, called induction therapy.
If the cancer comes back after the initial treatment, children with B-ALL are typically given chemotherapy. After the first 4 to 6 weeks of reinduction chemotherapy, patients may receive additional intensive chemotherapy—the consolidation treatment. Approximately half of these patients will go on to have a hematopoietic stem cell transplant, which is considered the best route to a cure for children who are at high risk for a second relapse.
In some patients, however, chemotherapy can lead to severe side effects and may not effectively reduce the amount of leukemia. As a result, patients may not be able to undergo a stem cell transplant or a transplant may be delayed, which increases the likelihood that the leukemia will return.
To explore alternative consolidation treatments, the COG investigators and their counterparts in Europe developed the clinical trials of blinatumomab.
Blinatumomab is a type of immunotherapy called a Bispecific T cell Engager molecule (also known as a BiTE). "BiTEs are fusion proteins that essentially use the immune system to treat cancer," said Elad Sharon, M.D., of NCI's Cancer Therapy Evaluation Program and an investigator on the COG trial.
The bispecific molecules, he continued, are created by linking the targeting regions of two antibodies. The treatment works by binding to two different molecules: CD19, a protein, or antigen, which is overexpressed on the surface of the leukemia cells (as well as normal B cells), and CD3, an antigen expressed on T cells.
"The bispecific engager has a high affinity for both T cells and the target CD19 cells, and it brings these cells into close proximity," said Dr. Sharon. "Essentially, the drug gets the immune system to notice—and then target—the cancer cells."
In Both Trials, Blinatumomab Is More Effective than Chemotherapy
In both trials, patients were randomly assigned to receive blinatumomab or additional chemotherapy as consolidation therapy. And although the COG and European trials had similar results, the studies themselves had some key differences.
The COG trial, for instance, enrolled children and young adults aged 1–30 with intermediate- or high-risk B-ALL at first relapse. The European trial, by contrast, enrolled patients aged 1–18 with high-risk relapsed disease. (The COG trial also included a separate cohort for patients with low-risk relapsed B-ALL, but the results of that part of the study are not yet available.)
Patients in the COG trial also received less chemotherapy prior to receiving blinatumomab than those in the European trial and were given two courses of blinatumomab, compared with one in the European study.
In the COG trial, which included 208 participants, blinatumomab was more effective than chemotherapy across different measures assessed in the study, Dr. Brown said. At 2 years, for example, approximately 71% of patients treated with blinatumomab were still alive, compared with approximately 58% of the chemotherapy group.
The trial's primary measure, however, was how long patients lived without their disease getting worse. Here again, blinatumomab appeared to be better than chemotherapy, although the difference was not statistically significant.
Patients treated with blinatumomab also appeared to do better on other important outcomes, including achieving minimal residual disease, which means that patients have very low or undetectable levels of leukemia cells in their blood. These patients were also more likely to go on to receive a stem cell transplant than patients receiving chemotherapy.
Achieving minimal residual disease prior to a stem cell transplant can be important for a patient's prognosis, noted Neerav Shukla, M.D., and Maria Luisa Sulis, M.D., of the Pediatrics Department at Memorial Sloan Kettering Cancer Center, in an accompanying editorial in JAMA.
Long-term survival after a stem cell transplant "is highly dependent on the extent of disease control" at the time of the transplant, Drs. Shukla and Sulis wrote.
The European trial—which was funded by Amgen, the maker of blinatumomab—included 108 patients. Those treated with blinatumomab also did substantially better on a measure known as event-free survival: 69% versus 43%. An event was defined as a relapse of their cancer, death, diagnosis of a second cancer, or failure to achieve complete remission.
Overall survival also favored the blinatumomab group. At a median follow-up time of 19.5 months, there were 24 deaths—8 in the blinatumomab group and 16 in the chemotherapy group.
And, as in the COG trial, patients treated with blinatumomab were more likely to achieve minimal residual disease. As was also the case in the COG trial, serious side effects that may prevent patients from proceeding to a stem cell transplant were more common in patients treated with chemotherapy.
Expanding Interest in Studying Immunotherapy
Drs. Shukla and Sulis agreed with Dr. Smith that the results of both trials support "a change in clinical practice" for children and young adults with high-risk relapsed B-ALL.
The editorialists also said that more research is needed to answer questions about the optimal use of blinatumomab, including when to give the drug and how many courses. In addition, they wrote, the results "support investigating the inclusion of blinatumomab and other immunotherapies in future clinical trials" of children and young adults with B-ALL.
And that's already happening. Following the release of the initial results of the COG trial in 2019, for example, NCI launched a clinical trial to see whether combining blinatumomab with another immunotherapy agent, nivolumab (Opdivo), would be even more effective for children with B-ALL at first relapse.
Studies are also evaluating immunotherapy-based approaches for earlier stages of B-ALL, including as an initial treatment in patients when they are first diagnosed with the cancer. For example, blinatumomab is being evaluated in a COG frontline phase 3 study of children with standard-risk B-ALL.
In addition, COG is conducting a large clinical trial of an immunotherapy drug called inotuzumab ozogamicin (Besponsa), which is used to treat some adults with B-ALL, in younger patients with newly diagnosed high-risk B-ALL.
"The COG trial was the first study in pediatric ALL to show that an immunotherapy-based approach led to an increase in survival" compared with chemotherapy, said Dr. Smith. "And there is growing interest in seeing whether these approaches can be added to chemotherapy and cure more children."
For young patients with B-ALL, said Dr. Brown, "the survival rates are still less than optimal, and we need to continue to improve outcomes. There is lots of room for improvement."