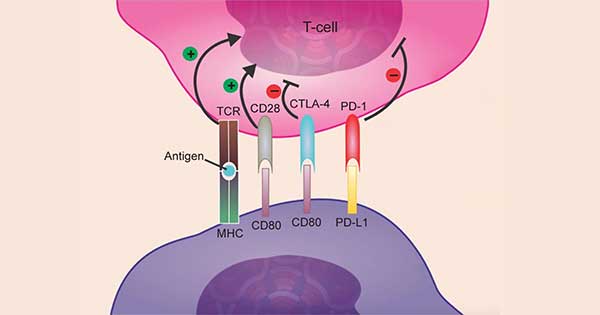 January 7, 2019, by NCI Staff
People with previously untreated non-small cell lung cancer (NSCLC) that has spread beyond the lung now have a new treatment option. On December 6, the Food and Drug Administration (FDA) approved the immunotherapy drug atezolizumab (Tecentriq) in combination with a standard regimen of bevacizumab (Avastin), paclitaxel (Taxol), and carboplatin.
The approval covers patients with NSCLC whose tumors are nonsquamous and lack a cancer-causing alteration in the EGFR or ALK genes. About 70% of people with NSCLC have the nonsquamous type, which refers to the kind of cells in which the cancer originated.
Atezolizumab is an immune checkpoint inhibitor, a drug that boosts the immune system's ability to attack cancer.
Another immunotherapy–chemotherapy combination, which consists of pembrolizumab (Keytruda), pemetrexed (Alimta), and carboplatin, is also FDA-approved for the initial, or first-line, treatment of people with metastatic nonsquamous NSCLC whose tumors lack EGFR or ALK mutations.
For patients with this type of NSCLC whose tumors have high PD-L1 (an immune checkpoint protein), pembrolizumab on its own is an additional treatment option.
With this approval, the atezolizumab combination "becomes another reasonable option, but it's not clear that it's a better option than other chemo–immunotherapy combinations," said Heather Wakelee, M.D., a lung cancer specialist from Stanford University.
Because the efficacies of the atezolizumab and pembrolizumab combinations have not been compared directly, "it's going to be difficult to know how to pick," Dr. Wakelee said.
One point of difference between the two combinations is potential side effects. In general, these chemotherapy regimens have similar toxicities, including fatigue and a lower-than-normal number of blood cells. But in addition, paclitaxel causes hair loss and neuropathy, and pemetrexed is unsuitable for people with kidney problems, Dr. Wakelee explained.
Cost should also be taken into consideration, she added. All of the chemotherapy–immunotherapy combinations can be very expensive, but differences in a patient's location and insurance can mean that one combination is more affordable than another.
The IMpower150 Trial
More than 1,000 people with NSCLC across 26 countries enrolled in the phase 3 clinical trial called IMpower 150 that led to FDA approval of the atezolizumab–bevacizumab–chemotherapy combination.
Participants were randomly assigned to receive the bevacizumab–paclitaxel–carboplatin regimen with or without atezolizumab. The trial also included a third treatment group, or arm, in which participants received a combination of atezolizumab, paclitaxel, and carboplatin. The study was sponsored by F. Hoffmann–La Roche/Genentech, the manufacturer of atezolizumab and bevacizumab.
Participants who received the atezolizumab–bevacizumab–chemotherapy combination lived a median of more than 4 months longer than those who received the bevacizumab–chemotherapy regimen (19.2 versus 14.7 months), the investigators reported.
The median length of time that participants lived without their cancer getting worse (progression-free survival) was also longer in the atezolizumab–bevacizumab–chemotherapy group (8.5 versus 7 months).
Median progression-free survival and overall survival were similar among patients who received the atezolizumab–chemotherapy combination and those who were treated with the bevacizumab–chemotherapy regimen.
Among patients in the atezolizumab–bevacizumab–chemotherapy arm, the most common severe side effects were decreased neutrophil count, either alone or with a fever, and high blood pressure. Compared with those who received the bevacizumab–chemotherapy regimen, more patients who received the regimen with atezolizumab had rash, stomatitis, febrile neutropenia, and hemoptysis.
Although checkpoint inhibitors like atezolizumab aim to unleash the immune system against cancer, revving up the immune system can inadvertently harm healthy tissue. These immune reactions can be severe but are rare and usually reversible.
The most common immune-related side effects of the atezolizumab–bevacizumab–chemotherapy treatment were rash; inflammation of the liver, colon, and lungs; and changes in the amount of thyroid hormone (hypothyroidism or hyperthyroidism). None of the immune-related side effects were considered severe.
Other Treatment Considerations
People with nonsquamous NSCLC that has a cancer-causing alteration in EGFR or ALK are usually initially treated with therapies that target those alterations specifically. But when those targeted therapies stop working or don't work at all, there are few effective treatment options.
More than 100 patients with an EGFR or ALK alteration whose cancer got worse or who experienced unacceptable side effects with at least one approved targeted therapy were included in the IMpower 150 trial.
Those who were treated with the atezolizumab–bevacizumab–chemotherapy combination had longer median progression-free survival than those who received the bevacizumab–chemotherapy regimen (9.7 versus 6.1 months), the investigators found.
"A lot of clinicians are interested in this [finding]" because there are no data on the efficacy of the pembrolizumab combination in this patient group, Dr. Wakelee explained. But more data are needed to determine if the treatment truly benefits these patients, she noted.
Atezolizumab alone is approved for patients with ALK or EGFR mutations who have progressed on targeted therapy, and the hope is that the combination will be more effective, she added.