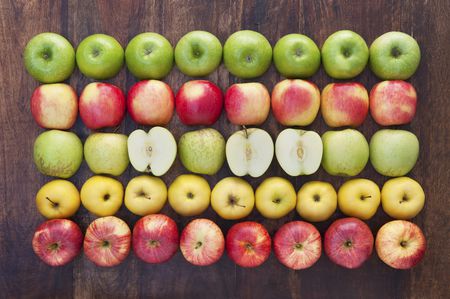 Hello and welcome Fall, it's nice to see you again! This time of year brings a bounty of delicious produce and today's feature is all about a fall favorite: apples – a versatile and nutritious fruit! Let's take a look:
Fun and Fast Facts
Did you know? Pennsylvania produces 400-500 million pounds of apples per year!
There are 7,500 varieties of apples throughout the world, and over 2,500 varieties in the United States
Apples grow on trees, and take about 4-5 years to fruit
The Honeycrisp apple was developed in Minnesota and is their official state fruit
Star Nutrition
Dietary fiber: one apple has about 3-4 grams of dietary fiber. Apples have both insoluble and and soluble fiber. The pectin fiber (soluble) is particularly beneficial for promoting healthy gut microbes. Dietary fiber is beneficial for several aspects of health, including heart health, weight management, digestion, blood sugar stability, and bowel regularity. The American Institute for Cancer (AICR) recommends aiming for 30 grams of fiber per day.
Vitamin C: apples are a good source of vitamin C (14% of the daily value for one medium apple), a water-soluble vitamin important for immune function, collagen production, iron absorption.
Phytonutrients: apples contain flavonoids, a phytonutrient that has anti-inflammatory properties, working to protect cellular health from free radical damage
AICR lists apples on their "foods that fight cancer" list!
Recipes and Ideas
Pair apple slices and peanut butter for a satisfying snack (think fiber, protein, fat!)
Make an apple sandwich for a tasty, creative snack – core the apple and slice into rounds, top with nut butter, raisins, granola
Add chopped apple to oatmeal, yogurt, salads
Grated or diced apples are a nice addition to chicken and tuna salad, coleslaw
Try baked apples as a delicious dessert on a cool, fall night
Speaking of baked apples on a fall night – check out this recipe: Apple Crisp Stuffed Baked Apples via Plant-Based RD blog https://plantbasedrdblog.com/2021/09/apple-crisp-stuffed-baked-apples
Looking for some crunch? Try this: Brussel Sprout Apple Slaw via AICR: https://www.aicr.org/cancer-prevention/recipes/brussels-sprout-slaw-with-cranberries-and-walnuts/
Prefer to blend and love apple pie? Check it out – Apple Pie Smoothie via Cook for Your Life: https://www.cookforyourlife.org/recipes/apple-pie-smoothie/
Quick Tips
Store apples in the refrigerator to extend the shelf life which can be up to 6 weeks! Look out for any bruises or molds, which are signs of spoilage.
The skin holds much of the fiber and flavonoids, so keep the apple intact for these extra benefits.
While apple juice does have some nutritional benefit, apple juice lacks dietary fiber. Looking to increase your fiber? Go for the whole apple!
References
https://extension.psu.edu/apple-production
https://web.extension.illinois.edu/apples/facts.cfm
https://www.sos.state.mn.us/about-minnesota/state-symbols/state-fruit-honeycrisp-apple/
Apples: Linked with Lower Risk of (ER-) Breast Cancer – American Institute for Cancer Research (aicr.org)
CPE Monthly: Health Benefits of Apples – Today's Dietitian Magazine (todaysdietitian.com)
https://www.aicr.org/cancer-prevention/food-facts/
---
Caroline Meehan is a Registered Dietitian Nutritionist at Penn Medicine's Abramson Cancer Center with six years of experience in cancer care and medical nutrition therapy. Caroline enjoys writing, reading, and talking about all things nutrition, whether it be debunking diet fads, or discussing the latest in nutrition science. In her free time, Caroline is typically cooking or baking, and spending time outside, exploring Philadelphia and beyond.