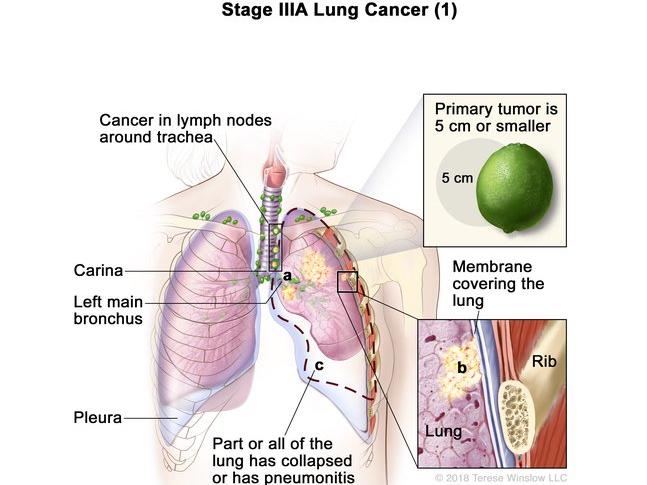 , by NCI Staff
The Food and Drug Administration (FDA) has approved the immunotherapy drug atezolizumab (Tecentriq) as an additional, or adjuvant, treatment after surgery and chemotherapy for some patients with non-small cell lung cancer (NSCLC).
The approval marks the first time an immunotherapy has been cleared as an adjuvant treatment for people with lung cancer.
Under the October 15 approval, patients must have stage II to IIIA NSCLC, which means that their cancer has only spread "locally," that is, nearby to the tumor. In addition, their tumors have to express the protein PD-L1 on 1% or more of their tumor cells, which must be determined by an FDA-approved test. FDA also approved a companion diagnostic test called Ventana PD-L1 (AP263) to identify patients who are candidates for adjuvant treatment with atezolizumab.
The approval is based on results from the IMpower010 clinical trial, which included more than 1,000 patients with NSCLC who had had their tumors removed surgically. The patients all received adjuvant chemotherapy before being randomly assigned to receive atezolizumab or best supportive care.
The group that received adjuvant atezolizumab lived about 7 months longer without dying, experiencing a recurrence of their cancer, or developing a new lung cancer (disease-free survival) than the group that received supportive care.
The improvement was more pronounced among patients whose tumors had elevated levels of PD-L1, researchers reported in The Lancet on September 20. PD-L1 is the most widely used biomarker to guide the use of immunotherapy drugs called immune checkpoint inhibitors, including atezolizumab.
Treatment with atezolizumab after surgery and adjuvant chemotherapy offers "a promising treatment option" for some patients with early-stage NSCLC, the study authors wrote.
"This is the first phase 3 clinical trial to demonstrate a benefit from immunotherapy for patients with early-stage NSCLC," said Enriqueta Felip, M.D., Ph.D., of the Vall d'Hebron University Hospital in Barcelona, who led the study.
Hoffman-LaRoche, the maker of atezolizumab, sponsored the trial.
"This well-done study clearly demonstrates the value of adjuvant immunotherapy when given after adjuvant chemotherapy in patients with early-stage lung cancer," said Fred Hirsch, M.D., Ph.D., executive director of the Center for Thoracic Oncology at the Tisch Cancer Institute at Mount Sinai.
In an interview before the FDA approval was announced, Dr. Hirsch, who was not involved in the research, added, "My strong opinion is that the findings will lead to a change in clinical practice quickly."
An "Important Step Forward" for Lung Cancer
Patients receive adjuvant treatments to reduce the risk of cancer coming back after primary treatment, such as surgery. Adjuvant treatments may include chemotherapy, radiation therapy, hormone therapy, and targeted therapy. Many patients with early-stage NSCLC, for example, receive adjuvant chemotherapy after surgery. In many patients, however, the cancer eventually comes back.
IMpower 010 is just one of several phase 3 clinical trials evaluating immune checkpoint inhibitors as adjuvant treatments for NSCLC following surgery. The NCI-sponsored ALCHEMIST trial (also called ANVIL) is evaluating adjuvant nivolumab (Opdivo), and the PEARLS study is testing pembrolizumab (Keytruda).
As the first of these trials to report results, the IMpower010 study "is an important step forward," Justin Gainor, M.D., of Massachusetts General Hospital, wrote in an accompanying editorial in The Lancet that appeared before the FDA approval was announced.
Atezolizumab and several other immune checkpoint inhibitors are already approved as initial treatments for people with metastatic NSCLC.
Results of the IMpower010 Trial
IMpower010 trial participants had lung cancers ranging from stage IB through IIIA. However, the data reported in The Lancet, which formed the basis for the FDA approval, focused mainly on those with stage II through IIIA disease specifically.
In these patients, the tumors have only spread locally and not metastasized to distant locations in the body. In stage IIIA, for example, the cancer has spread to lymph nodes on the same side of the chest as the primary, or original, tumor.
Most patients in the trial received standard adjuvant chemotherapy, as planned. Those assigned to the atezolizumab group then went on to receive it every 3 weeks, for up to a year.
After a median follow up of nearly 3 years, more participants in the atezolizumab group than the best supportive care group were alive without any evidence of their cancer returning or of a new primary NSCLC developing.
The improvement in 3-year disease-free survival with immunotherapy was even greater when looking at just those patients whose tumors expressed PD-L1 on 1% or more of tumor cells. That's consistent with many other studies of immune checkpoint inhibitors, which have shown that patients with advanced cancer whose tumor cells express PD-L1 tend to benefit more from the treatment than patients whose tumor cells don't express it.
When all patients with phase II-IIIA disease were considered together, regardless of PD-L1 expression level, the median disease-free survival was 42.3 months for the patients in the atezolizumab group and 35.3 months for the supportive care group: a 21% reduction in risk of a disease-free survival event (i.e., return of their cancer or discovery of a new primary lung cancer).
Three-Year Disease-Free Survival Rate
All patients
PD-L1 on ≥1% of tumor cells
Atezolizumab group
56%
60%
Supportive care group
49%
48%
For those patients whose tumors expressed PD-L1 on 1% or more of tumor cells (slightly more than half of the patients in the study overall), the median disease-free survival was 35.3 months in the supportive care group but, because too few patients had experienced a worsening of their cancer, has not yet been reached in the atezolizumab group. That translates to a 34% reduction in the risk of a disease-free survival event.
The researchers also looked specifically at patients whose tumors expressed PD-L1 on at least 50% of tumor cells and found that the benefit of atezolizumab was greatest in such patients. Among this group, people in the atezolizumab group were almost 60% less likely to experience a disease-free survival event.
Longer follow-up will be needed to show if the use of adjuvant atezolizumab following adjuvant chemotherapy and surgery for lung cancer helps patients to live longer, the researchers wrote.
The trial did not uncover any previously unknown side effects of atezolizumab. The most common atezolizumab-related side effects included hypothyroidism, itchy skin, and rash.
Overall, more side effects were reported in the atezolizumab group than in the other group. Approximately 18% of patients in atezolizumab group stopped taking the drug because of side effects, and 8 patients died due to the treatment, the researchers reported.
A New Idea that Could Be Here to Stay
Adjuvant atezolizumab should become a new standard treatment for the appropriate patients with NSCLC, Dr. Gainor wrote in his editorial. A limitation of the IMpower010 trial, he noted, was that the researchers could not yet determine whether adjuvant atezolizumab helped patients live longer than patients who did not receive the treatment.
Nonetheless, he continued, other studies of patients with NSCLC have suggested that prolonging the control of the disease might be "clinically meaningful." This knowledge, together with the results of IMpower010, supports use of adjuvant atezolizumab in the appropriate patients with NSCLC, he concluded.
Stephen Liu, M.D., director of thoracic oncology at Georgetown Lombardi Comprehensive Cancer Center, agreed, writing last month on Twitter that the study results were "practice changing." Dr. Liu stressed, however, that more work is needed to clarify which patients are likely to benefit most from adjuvant immunotherapy.
The available data, Dr. Hirsch noted, suggest that patients whose tumors express high levels of PD-L1 may benefit the most.
"The [IMpower010 trial] paves the way for the use of immunotherapy in the adjuvant setting for treatment of lung cancer," he said.