By Cynthia (Cindy) Chmielewski aka MyelomaTeacher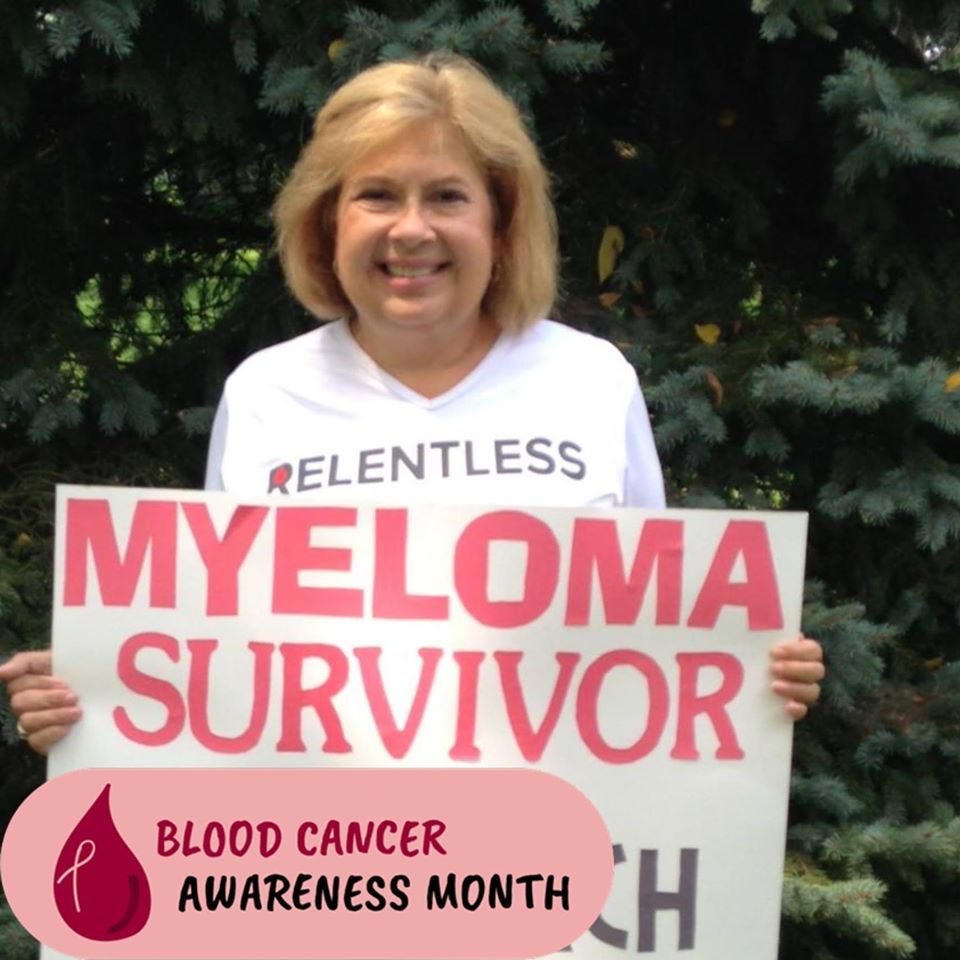 Living with cancer, especially a blood cancer that affects your immune system, in the era of COVID-19 is very challenging. I am constantly weighing the risks and benefits of all my actions.
I made the choice to go into self-isolation the first week of March. At that time very little was known about COVID-19 or on how someone with multiple myeloma would be able to fight off this novel coronavirus. I live in NJ, one of the initial hotspots of the virus. I weighed the risks of becoming infected with the little-known coronavirus against the benefits of leaving my home. The risks at that time greatly outweighed the benefits. I stayed put and started working on projects around the house that always seemed to get placed on the back burner prior to the pandemic.
I am fortunate that my husband was able to pick up groceries that I order online at the local market and prescriptions from the drive-thru at CVS. I tried to order at least 3 weeks of groceries at once so outings and exposures would be limited. Sometimes it was next to impossible to find a time slot. I would stay up until the wee hours of the morning checking to see if pick-up spots opened up. I had everything else delivered to my home. In those early days I had an elaborate system on how and when to open packages that were delivered and how to disinfect groceries.
I also weighed the risks and benefits of traveling to our community hospital to receive my myeloma treatment. My myeloma is in remission. I am not in "active treatment". I am on what is referred to as "maintenance therapy". My myeloma has been maintained at a low level of detection by an ongoing lower dose therapy for the past 9 years. Fortunately, my cancer has been very stable and behaving well.
Back in March and April, I believed the risk of contracting COVID-19 by entering the local hospital greatly outweighed the risks of my cancer relapsing. I made the personal choice of postponing my treatment for 2 months. In May I restarted my maintenance regime. The local hospital now has well-established safety protocols in place, and I feel very comfortable receiving treatment. Additionally, I postponed having my monthly blood work done at LabCorp for 1 month. I was unsure what safety protocols the lab had in place in late March. I now take advantage of LabCorp's first business hours for the vulnerable population and "Wait Where You Are Comfortable" programs.
I have had close friends over on 2 occasions. During those social get togethers we remained outdoors, only had 2 friends visit at a time and maintained a social distance. There was no hugging allowed, not even a fist bump was acceptable! I still haven't entered the grocery store, pharmacy or any other establishment except for medical care….that is until last week.
Since the beginning of June, I was agonizing over the decision on whether or not to visit my daughter in North Carolina. I weighed the risks and benefits over and over again in my head causing a few sleepless nights. The biggest risk was traveling in a plane, but the biggest benefit was celebrating a milestone in my only child's life. My daughter closed on her first home on June 11. I wanted to be there to share in her joy and help with the demolition of her fixer-upper.
As I went through treatment one of my driving forces was to be there to celebrate the milestones in my family's lives. I was there to cheer on my daughter as she graduated from college and to burst with pride as she received her hood as a veterinarian. I was there to toast to our 30-wedding anniversary and to celebrate with my husband when he turned the Big 60! I really wanted to be there to share in my daughter's joy of homeownership – a new chapter in her life. That was a huge benefit. Additionally, I needed a mental health vacation. The 4 walls of my house that provided me with protection since the first week of March were beginning to cave in on me. I have been "Zoomed" out. I needed a safe get away.
I made the pain-staking decision to travel to Charlotte. I mitigated my risks by wearing a N95 mask the entire time I was in the airport and traveling on the plane, wiping all surface I touched with Clorox wipes, frequently using hand sanitizer and keeping social distance whenever possible. I didn't use the public restrooms at the airport. (being a retired teacher helped with this!)
I am confident that I made the best decision for me. Risk vs benefits decisions are individual choices. Cancer patients are accustomed to weighing risks vs benefits. We do this with every treatment decision we make. What I think is worth the risk, may differ from someone else. During these challenging times, we all have to weigh the risk vs benefits of our actions. COVID-19 isn't disappearing anytime soon. Unless we want to become hermits (some may choose to do this and that's okay) we will have to take risks. Weigh the risks vs the benefits, make wise choices, and stay safe.
On a side note, while I was in North Carolina the governor of NJ mandated that NJ residents returning from North Carolina and 9 other states must self-quarantine for 14 days. So now I am stuck at home once again, but those 4 walls are no longer closing in on me since I had the opportunity to share a wonderful visit with my daughter- the new homeowner!
---
Cynthia attended Rutgers University graduating with degrees in Psychology and Education. Upon graduation she secured her first teaching position and immediately fell in love with her chosen profession. Cynthia continued teaching for 28 years.
Now retired, Cynthia, a myeloma survivor, is using her passion for education to teach a new group of "students" – myeloma patients and their caregivers. She is on the advisory boards of the Patient Empowerment Network, the Myeloma Crowd and the Philadelphia Multiple Myeloma Networking Group. Using social media to educate is her passion. Cynthia educates and advocates by tweeting at @MyelomaTeacher and sharing myeloma resources, educational opportunities and clinical trial information on her MyelomaTeacher Facebook page. Ms. Chmielewski is the co-founder of the #MMSM TweetChat and is also a regular panelist on CureTalks Podcast. Cynthia was an invited panelist and presented posters on using social media in hematology at the annual meetings of the American Society of Hematology (ASH), the American Association for Cancer Research (AACR) and the European Bone Marrow Transplant (EBMT).
More recently Cynthia joined the Patient Engagement team at Patient Power. Additionally, she became the curriculum director of the Myeloma Crowd's HealthTree University. She enjoys serving as a voting member on the IRB at the University of Pennsylvania, a peer reviewer for the NCI's DEA grants program, and a patient advocate on the Myeloma Steering Committee of the National Cancer Institute (NCI) and ACCRU. Cynthia has also participated in the Department of Defense's CMCRP grant reviews.