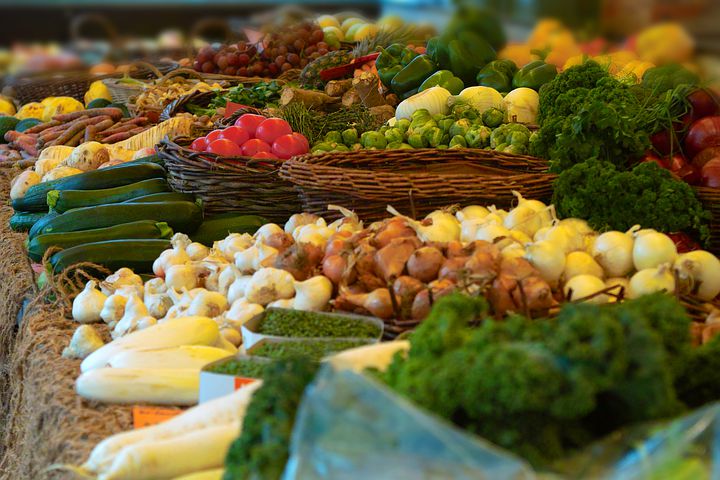 Summer farmer's markets are full of fresh picked goodness from the farm. Last week I found
Lots of green, yellow, and purple beans-also known as string beans. Eat them raw; steam them lightly and marinate in a vinaigrette dressing; sauté them with lots of garlic and sprinkle with some toasted pine nuts, slivered almonds, or walnuts; add them to a light summer vegetable soup; pickle them with lots of fresh dill, garlic and a bit of hot pepper! A recipe for "dilly beans" can be found here.
What's to love about pole beans/string beans/runner beans/green beans? Lots! According to Nutrition Data, they are
Low in calories: 1 cup raw = calories.
A fairly good source of protein (about 5 grams per cup) and Vitamin C.
They also provide about 4 grams of fiber per 1 cup serving.
When choosing fresh beans, look for firm beans that are flexible and not too thick. Older beans can be tough and less sweet tasting. These beans come in green, yellow, purple, and speckled/spotted varieties. There are also some that are flat – these are often known as Italian green beans and are delicious when steamed until tender and tossed in some extra virgin olive oil, a bit of fresh chopped garlic, and a sprinkle of black pepper.
I also found lots of onions–purple, white and green.
If you haven't tried onions when they are young and tender, you are missing a treat. Try grilling them: brush the entire onion, including the tender tops, with some olive oil, and grill until lightly charred and tender. and add to a burger (veggie or other); use in a wrap with some roasted red peppers, hummus, and feta cheese); or eat them with some grilled bread. You can use the tender tops in dips, stir-fries, or soups. These young onions tend to be sweeter and milder than regular onions. Onions have been prized for hundreds, if not thousands of years for their aroma, flavor, and variety. Onions come from the allium family, and they are closely related to garlic, leeks, shallots, and chives. Delicious raw or cooked, fresh "spring" or "summer" onions are harvested before they become the more commonly known large bulb with papery outer skins. These tender young onions are especially delicious when they are lightly grilled, but you can certainly use them in all your recipes that call for onions, although they may be a bit less pungent than the more mature versions.
Onions are very low in calories and high in phytochemicals – those special plant compounds that help support our health. These onions need to be stored in the refrigerator and are best used within several days of purchase. Here are some recipes for using those spring onions
If you enjoy checking out local Farmers Markets, ask the grower what their favorite way to prepare the produce in season. Many farmers are proud and happy to talk about their "babies"! This is a great way to learn some new recipes and perhaps try some produce that is new to you!
---
Audrey Caspar-Clark MS, RD, LDN received her M.A. in Nutrition Education from Immaculata University in 2009 and her B. S. in Nutrition from Immaculata University in 2000. She holds an active certification as a specialist in oncology nutrition (CSO) and works as an outpatient oncology dietitian at the Hospital of the University of Pennsylvania and the Abramson Cancer Center, a large urban cancer center treating upwards of 6000 patients yearly. She is a frequent provider of nutrition-related education at oncology conferences, patient support groups, and community health programs; as well as providing educational sessions for staff. Some of her interests include cooking and preserving foods, sustainable agriculture, equity in health care and food distribution, and animal welfare.