Welcome to our newest blog series, "Five Questions With…" This series will highlight the unsung heroes that make healthcare work. From guest services to the phlebotomist, the pet therapy volunteer, and the environmental services workers. These individuals enhance our experiences when we are getting care and highlight human connection and support. Thank you for all you do!
Today, we feature the Child-Life team from Penn Medicine Radiation Oncology, Jessica, Katie, and Melanie.
---
Tell us more about what you do to support patients.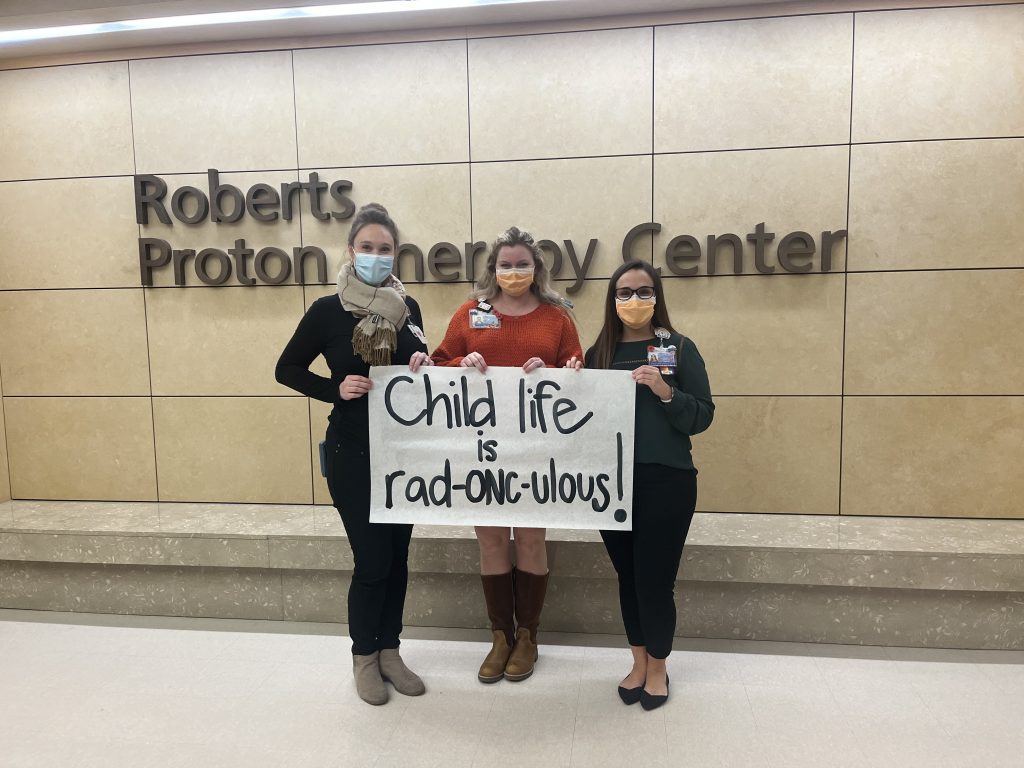 Certified Child Life Specialists are bachelor's or master's trained professionals with a certification in Child Life. All child life staff specializes in working with hospitalized children and understand the unique stressors that can accompany a hospital stay. CCLSs provide evidence-based, developmentally, and psychologically appropriate interventions, including therapeutic play, preparation for procedures, and education that support and reduce fear, anxiety, and pain for children, adolescents, and families. They work in partnership with families, interdisciplinary healthcare teams, and community professionals within the evolving healthcare system to meet the psychosocial, emotional, and development needs of children and adolescents. In radiation oncology, our job is to prepare and support patients for radiation therapy, assess whether or not patients need anesthesia to complete their treatment, educate and assist patients in processing their diagnoses, and supporting the emotional wellbeing of patients and siblings.
Is there one particular story that sticks out in your head about a patient you can share?
We recently had a patient who was coming for radiation treatment and was having trouble acclimating to the hospital environment. From working with the family, we discovered that the patient really enjoyed watching the show "The Office", and Michael Scott is his favorite character. Typical verbal communication was challenging for this patient, but through stories about Michael Scott, we were able to prepare him for and educate him about radiation and what to expect. On the patient's last day we coordinated so all of our staff dressed up like Michael Scott, and the patient loved it! This is an example of one of the ways we make the hospital less scary by normalizing the hospital environment.
What is the thing you love most about your job?
As Certified Child Life Specialists, we have the privilege to witness and help patients and families find their strength and resilience during treatment. Kids are so resilient and we, as adults, often don't give them credit for how adaptive they are.
What is a job accomplishment that you are proud of?
A part of our role in radiation oncology is assessing if patients can complete treatment without anesthesia. Through our collaboration with staff and families, we are able to provide appropriate preparation before treatment that allows kids as young as 5-6 years old complete radiation without anesthesia. This saves the patient and family hours of anesthesia prep and recovery each day, eliminates the risk of daily anesthesia, saves the hospital resources, and builds confidence in kids that they can do hard things well.
What is the most challenging part of your job?
Cancer takes a lot from families, and that can be difficult to witness. But in our role, we are fortunate to be able to give back to families many of the typical childhood experiences. We can make a hard and stressful thing easier and, often, fun. There's no greater reward for us than seeing a kid who struggled on their first day leave on the last day confident, comfortable and not wanting to leave because they have so much fun here.
---
Do you want to nominate a staff member, volunteer, co-worker, or friend for us to feature in "Five Questions With…" Go to oncolink.org/feedback and let us know!