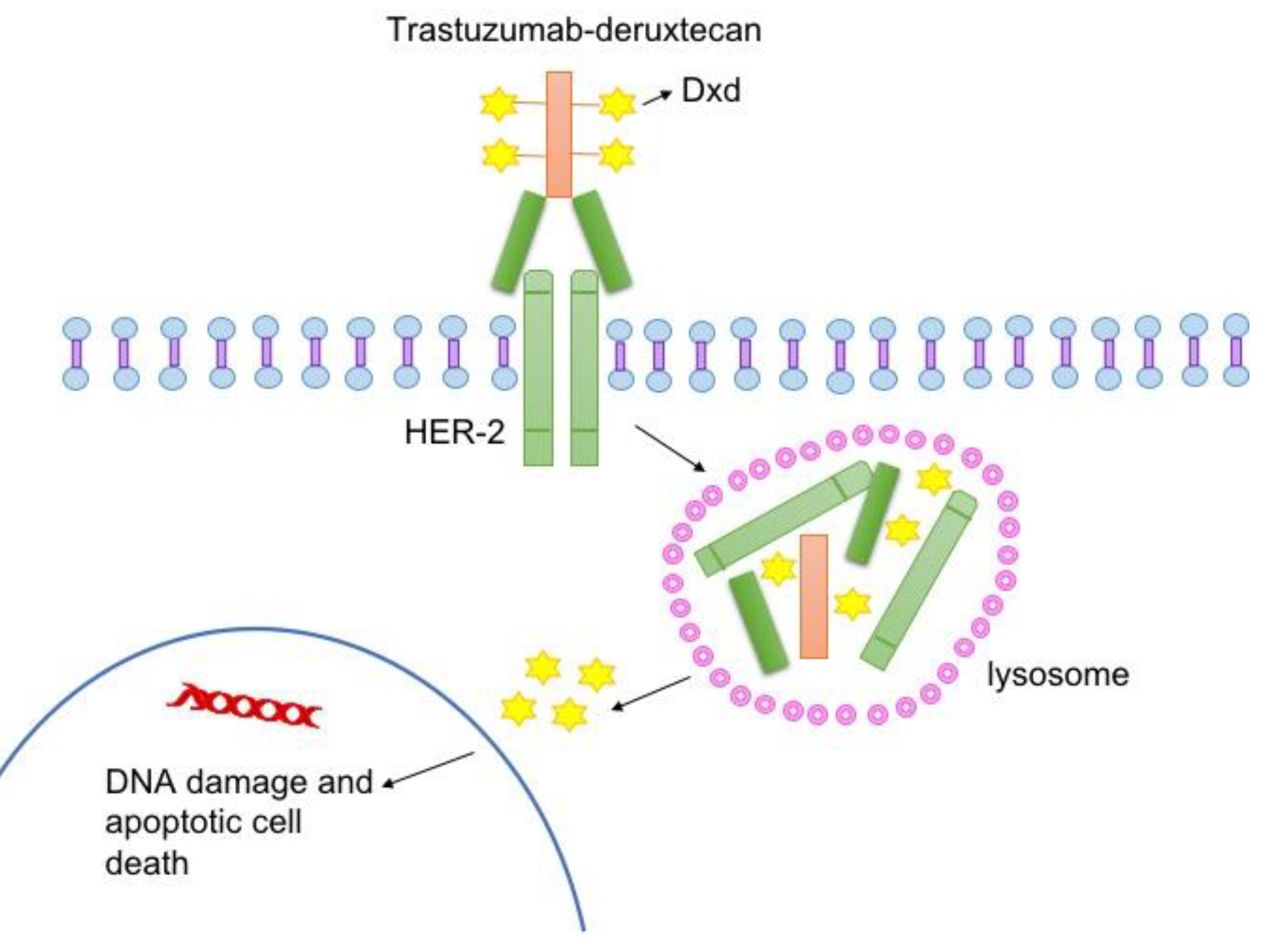 , by NCI Staff
New clinical trial results could open the door to more effective treatments for about half of all people with metastatic breast cancer—those whose tumors don't have high levels of the protein HER2—who until now have had limited treatment options.
In the trial, people with metastatic breast cancer who were treated with the HER2-targeted drug trastuzumab deruxtecan (Enhertu) lived nearly twice as long without their cancer growing, and lived 6 months longer overall, than those treated with standard chemotherapy. All patients in the study had tumors classified as "HER2-low" and had previously been treated for metastatic breast cancer with at least one other drug.
Until now, only people with breast cancers whose tumor cells produce high levels of HER2, known as HER2-positive breast cancer, had been shown to benefit from drugs that target HER2. But only about 15%–20% of people with breast cancer have HER2-positive tumors. The rest have no detectable HER2 or low levels.
The newly designated HER2-low form of metastatic breast cancer "traditionally [has been] quite difficult to treat," said breast cancer expert Jane Meisel, M.D., of Emory University's Winship Cancer Institute, who was not involved with the study.
The study findings are expected to change how metastatic HER2-low breast cancer is treated, and are "a huge win for our patients," Dr. Meisel said at a press briefing held during the 2022 American Society of Clinical Oncology (ASCO) annual meeting. The findings also "will fundamentally change" the way breast cancers are classified in patients with metastatic disease, she said.
Alexandra Zimmer, M.D., of the Women's Malignancies Branch in NCI's Center for Cancer Research, who also was not involved with the study, agreed that the findings are important and will provide a new treatment option for patients with metastatic HER2-low breast cancer.
However, Dr. Zimmer noted, some questions remain, such as how the results will apply to other HER2-targeted drugs available now or in the future.
Study leader Shanu Modi, M.D., of Memorial Sloan Kettering Cancer Center, presented the findings on June 5 at the ASCO annual meeting in Chicago.
Trastuzumab deruxtecan, also known as T-DXd, "is the first HER2-targeted therapy shown to provide clinically meaningful improvement in progression-free and overall survival compared with standard chemotherapy in people with HER2-low metastatic breast cancer," Dr. Modi said at the meeting.
Oncologists and cancer researchers at the meeting were so excited about the results, which were published simultaneously in the New England Journal of Medicine, that they gave Dr. Modi a standing ovation.
Drug delivers chemotherapy payload to tumor cells
T-DXd, which is given by infusion into a vein, is a type of drug known as an antibody–drug conjugate. Such drugs consist of a monoclonal antibody, in this case trastuzumab, chemically linked to a cell-killing chemotherapy drug—in this case, deruxtecan.
The trastuzumab component of T-DXd acts as a homing device that helps the drug deliver its chemotherapy payload directly to tumor cells that have HER2 on their surface. The antibody–drug conjugate is then ferried inside the cell, where the attached chemotherapy drug is released and kills the cell.
Once it's released, the chemotherapy portion of T-DXd can also enter and kill nearby tumor cells—even those that have little or no HER2. This unique "bystander effect" of T-DXd is thought to be a key reason that the drug is effective against HER2-low tumors whereas other drugs that target HER2 are not, Dr. Modi said.
T-DXd is already approved for the treatment of adults with advanced or metastatic HER2-positive breast cancer who have previously been treated with other HER2-targeted therapies, based on results of the earlier DESTINY-Breast03 clinical trial.
Other HER2-targeted antibody–drug conjugates in development "are showing promise [for treating HER2-low breast cancer] in early-phase studies," Dr. Modi noted.
Study participants had metastatic or inoperable breast cancer
The clinical trial, called DESTINY-Breast04, enrolled 557 adults who had metastatic or inoperable HER2-low breast cancer and had previously been treated with one or two types of chemotherapy. Nearly 90% of participants had hormone receptor–positive disease, meaning their tumors had receptors for the hormones estrogen and/or progesterone. The trial was funded by the developers of T-DXd, Daiichi Sankyo and AstraZeneca.
Two-thirds of participants were randomly assigned to receive T-DXd and the rest to receive their doctor's choice of chemotherapy. T-DXd was given intravenously every 3 weeks and patients were followed for a median of about 18 months.
In the group that received T-DXd, the median time that people lived without their cancer getting worse (known as progression-free survival) was about 10 months, compared with 5 months in the chemotherapy group. People who received T-DXd survived for a median of 23.4 months overall, while those in the chemotherapy group survived for a median of 16.8 months.
The numbers were similar when the researchers looked specifically at study participants who had hormone receptor–positive disease.
Although the study was not designed to look primarily at people with triple-negative breast cancer (that is, those whose tumors lack hormone receptors as well as being HER2 low), preliminary evidence indicates that they did benefit from T-DXd. Only 10% of patients in DESTINY-Breast04 had this particularly aggressive and hard-to-treat form of breast cancer, and "we need more data and, ideally, a clinical trial specifically designed to answer this question," Dr. Zimmer said.
Monitoring for potentially serious lung inflammation
The rates of side effects seen with T-DXd and chemotherapy were similar. The most common severe side effects of T-DXd were reduced levels of white and red blood cells and fatigue.
T-DXd can also cause a potentially serious type of lung inflammation called interstitial lung disease. In DESTINY-Breast04, 45 people in the T-DXd group (about 12%) developed this side effect, and 3 died as a result. By contrast, only one person in the chemotherapy group developed this lung condition and it was mild.
Patients receiving T-DXd must be carefully monitored and promptly treated if they develop signs of lung inflammation, Dr. Modi said.
Because oncologists are already using T-DXd to treat some women with breast cancer, they are now more aware of this possible complication and "know so much more about how to diagnose it earlier and how to treat it better," said oncologist Patricia LoRusso, D.O., Ph.D., of Yale Cancer Center, who was not involved with the study.
This knowledge, Dr. LoRusso said, has cut the rate of severe interstitial lung disease seen in people treated with T-Dxd since the drug first came into use a few years ago.
New methods of assessing HER2 levels are needed
With additional HER2-targeted antibody–drug conjugates expected to become available in the coming years, "we must also rethink novel, more accurate and sensitive ways of assessing [a tumor's] HER2 status," Dr. LoRusso said in formal comments after Dr. Modi's presentation of the study findings.
She noted that a recent study found that pathologists did not always agree when it came to distinguishing between HER2-low and HER2-negative breast cancers using immunohistochemistry. Researchers are developing new tests that can detect lower HER2 levels, she said, but these are not yet ready for use in everyday patient care.
"We need to reevaluate how we classify the HER2 content of tumors in terms of [deciding] what treatment to offer patients," Dr. Zimmer said. And it's not clear yet what the lower end of the new "HER2-low" designation will be, she noted.
Other issues for future study include figuring out how T-DXd compares with other targeted drugs used to treat metastatic HER2-low cancers, such as those that block the activity of CDK4 and CDK6 proteins on cancer cells, she said. "Ideally, clinical trials are needed to answer which one is best and clarify the order in which they should be offered to patients."
In addition, Dr. LoRusso said, "Despite phenomenal and [long-lasting] responses to T-DXd, metastatic breast cancer eventually does progress," and it's important to understand why tumors stop responding.
Ongoing clinical trials are looking at whether T-DXd may be an effective treatment for breast cancer in its earlier stages and whether combining T-DXd with other drugs may be more effective than using it by itself.