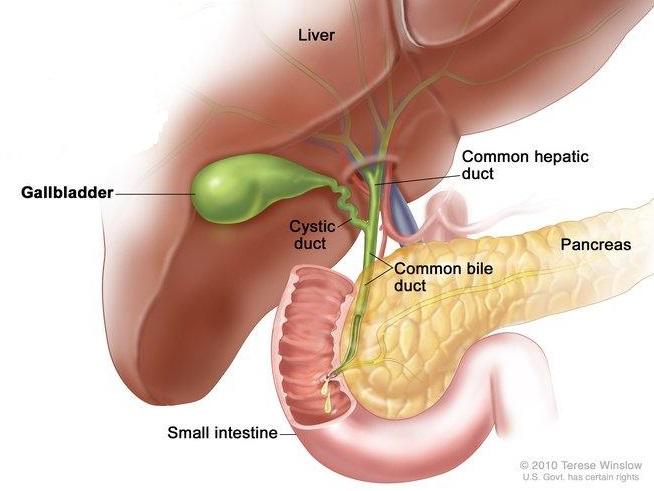 , by NCI Staff
New results from a large clinical trial offer a glimmer of hope for people with biliary tract cancer, a rare but aggressive form of cancer, which can include bile duct cancer or gallbladder cancer.
The study, called TOPAZ-1, found that adding the immunotherapy drug durvalumab (Imfinzi) to standard chemotherapy modestly extended how long people with advanced biliary tract cancer lived. TOPAZ-1 is the first large clinical trial to show that initial, or first-line, treatment that includes immunotherapy can improve survival in patients with advanced biliary cancer.
Even a small improvement in survival is noteworthy, experts said, because the outlook for people with this fast-growing type of cancer is poor and treatment options are limited.
In the trial, adding durvalumab to chemotherapy extended the length of time that people were still alive after starting treatment by a median of about 6 weeks compared with people who received chemotherapy plus a placebo. At 2 years after starting treatment on the trial, roughly 25% of patients who received chemotherapy plus durvalumab were still alive, compared with 10% of patients who received chemotherapy plus a placebo.
TOPAZ-1 study leader Do-Youn Oh, M.D., Ph.D., of Seoul National University Hospital in South Korea, presented the findings January 21 at the American Society of Clinical Oncology Gastrointestinal Cancers Symposium.
The study "has the potential to change the standard of care" for people with advanced biliary tract cancer, said Nilofer Saba Azad, M.D., an oncologist at Johns Hopkins University's Sidney Kimmel Comprehensive Cancer Center, who spoke at the symposium about the trial but was not involved in it.
"From one perspective, the modest improvement in patient survival provided by adding durvalumab is disappointing," said Tim Greten, M.D., head of the gastrointestinal malignancy section in NCI's Center for Cancer Research. But there is a bigger picture, Dr. Greten continued. "I'm enthusiastic because this study shows actual benefit to patients and is the first to show that immunotherapy might work" in people with this difficult-to-treat cancer.
A new treatment that extends survival is "something we haven't seen in this [cancer type] for many years," Dr. Greten said. However, he said, the modest survival benefit "tells me that a lot more work needs to be done."
Durvalumab improved survival without causing additional serious side effects
Biliary tract cancer, which includes cancer of the bile ducts and gallbladder, is rare, with an estimated 11,980 new cases diagnosed in the United States in 2021. But the number of new cases being diagnosed worldwide each year is increasing, said Dr. Oh.
Surgery to remove the entire tumor offers the only chance of a cure for biliary tract cancer. But these cancers are often diagnosed when the disease is at an advanced stage and surgery is no longer an option. For more than a decade, the chemotherapy combination of gemcitabine and cisplatin has remained the standard first-line treatment for people with advanced biliary tract cancer, including cancer that comes back after initial treatment.
However, the biological features of biliary tract cancer suggested that it might be responsive to immunotherapy, at least in some cases, Dr. Azad said.
In a smaller preliminary clinical trial, Dr. Oh and her colleagues found that adding durvalumab to the standard gemcitabine–cisplatin combination showed promising antitumor activity as a first-line treatment for advanced biliary tract cancer. Those results were the basis for conducting a larger trial.
TOPAZ-1—which was funded by AstraZeneca, the manufacturer of durvalumab—enrolled 685 people with inoperable advanced biliary tract cancer. The trial was conducted in the United States and 17 other countries, and slightly more than half of participants were from Asian countries, Dr. Oh said.
Participants were randomly assigned to receive durvalumab plus gemcitabine–cisplatin or a placebo plus gemcitabine–cisplatin. After a maximum of eight cycles of chemotherapy, patients continued treatment with either durvalumab or a placebo, respectively. All treatments, including the placebo, were given intravenously. A placebo was used so that neither patients nor investigators would know which treatment group patients were assigned to.
According to the findings presented at the meeting, people who received durvalumab lived a median of 12.8 months and those who received chemotherapy alone lived a median of 11.5 months.
Patients in the durvalumab group also survived longer without their disease getting worse than those in the chemotherapy-only group (a median of 7.2 months versus 5.7 months) and were more likely to have their tumors shrink following treatment.
It is notable that the improvement to survival with durvalumab did not cause any new serious side effects, Dr. Oh said. The most common side effects were a low red blood cell count (anemia), low white blood cell count (neutropenia), and nausea.
Potentially serious treatment-related side effects occurred in about two-thirds of people in both treatment groups. However, few trial participants stopped treatment due to side effects, and the number who did stop was similar in the two treatment groups, she said.
Which patients with biliary tract cancer are most likely to benefit?
TOPAZ-1 shows an "enticing benefit [of durvalumab] when it comes to survival and [tumor] response rates, but we do have some open questions," Dr. Azad said at the symposium.
One key question, she and Dr. Greten both noted, is how to identify those people with biliary tract cancer who are most likely to benefit from immunotherapy.
Because cancers of the gallbladder and bile ducts are rare, researchers "always lump them together [as 'biliary tract cancer' in clinical trials], even though their biology is different," Dr. Greten noted. So, it's possible that whether a patient's tumor responds to immunotherapy may depend on its location in the biliary tract.
In addition, Dr. Azad said, recent studies show that biliary tract tumors can be divided into subgroups based on their genetic features. And there's a chance that some of these subgroups may respond better to durvalumab or other types of immunotherapy.
The bottom line, said Dr. Greten, is that more work is needed to identify better drug combinations that can further extend survival for people with these devastating cancers.