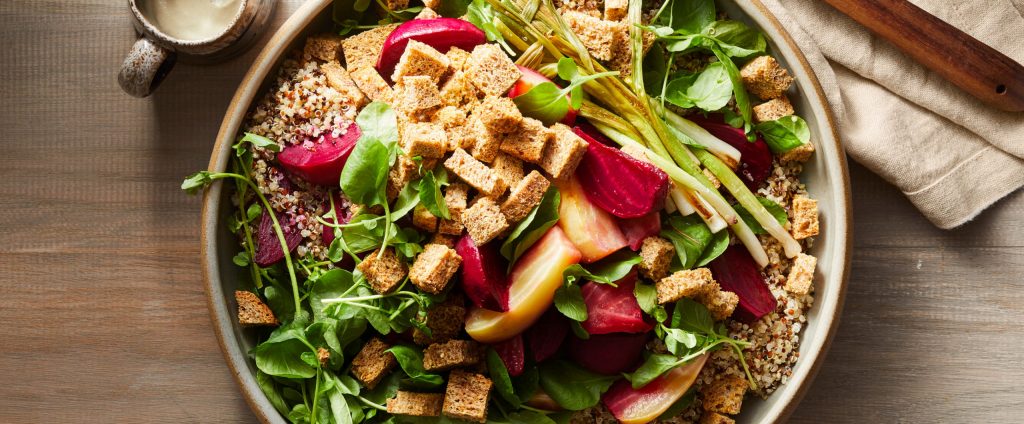 Staying active and hydrated in hot weather can be challenging. Beets are one of those super foods that are packed full of nutrients. They are a good source fiber, folate, manganese and potassium. Beets and beet greens contain a powerhouse of bioactive antioxidants, specifically betaine, attributing to the deep purple color of beets and lutein, found in beet greens. You have probably heard about the benefits of lutein for eye health. Betaine has been studied in relationship to cancer prevention and most recently in exercise performance. It is thought to bind water, helping you keep hydrated through a work out and may assist with less muscle fatigue.
A brief search on the internet will yield thousands of beet juice products on the internet touted as a rich source of nitrous oxide as a vasodilator for exercise. Although the data is conflicted, it appears that in some small studies, using beet juice prior to exercise can help lower muscle fatigue and improve exercise performance in moderate short duration intensity work outs. For more information and a review of the literature, this meta-analysis is a nice place to start.
Beets can be eaten in many ways. Too hot to cook? Peel your beet and grate raw beet into a salad or use the food processor for this incredible raw beet salad. This recipe comes from Mark Bittman, NY Times food writer.
If you love cooked beets, boil them in the morning before work or late at night. Don't throw those beet greens or cooking water away. Save the deep purple beet water in a thermos and store in the refrigerator for a delicious pre-work out hydrating drink. Stir fry the beet greens with some olive oil and garlic. The next day, try this wonderful beet salad as a meal or side dish.
Beet Walnut Salad
4 beets (boiled and peeled and cubed)
1 oz crushed walnuts
1 oz crumbled feta
Drizzle of olive oil
Combine all ingredients and serve.
Beets can be eaten in so many ways, what is your favorite?
---
Audrey Caspar-Clark MS, RD, LDN, Doris Piccinin, MS, RD, CDE, CSO, LDN, Carly Roop, RD, CSO, MA, LDN, and Caroline Meehan, RDN, CSOWM, LDN, CDCES are the registered dietitians at the Abramson Cancer Center at Perelman Center for Advanced Medicine who specialize in cancer nutrition and provide information based on sound nutritional therapies to support patients throughout their cancer treatment.