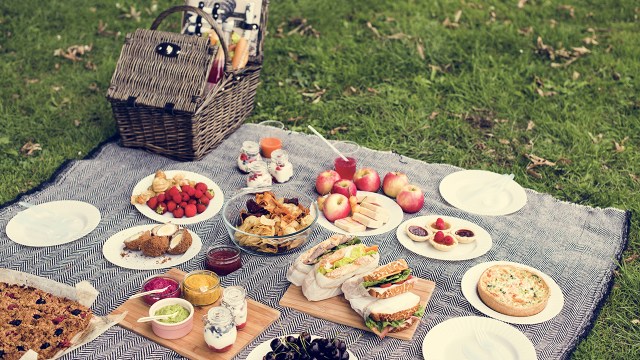 Autumn has arrived, but that doesn't mean outdoor dining has to end! You might be wondering what foods you could prepare that are healthy and tasty besides the typical grilled burgers and dogs or salads.
One fan favorite is Tabbouleh Salad Wraps:
Ingredients
½ cup bulgur wheat (if you have vacuum packed quinoa, you can use as a substitute)
2 cups fresh parsley
1 cup chopped tomato
¼ cup chopped red onion
3 Tbsp lemon juice
3 Tbsp olive oil (I generally only use 1 Tbsp olive oil)
(Recipe provided by Zahav cook book)
Directions
Cover the bulgur wheat with several inches of water and let stand for 30 minutes.
In food processor combine remaining ingredients.
Toss with bulgur wheat and serve.
Eat alone or use pita bread or tortilla wrap of your choice.
Here is another one from Zahav's cook book to share
Need some variety, Zahav substitutes parsley with kale and adds ½ cup apple (instead of tomato), uses sumac onions (looks like green onions) instead of red onions, uses ¾ cup walnuts and ¼ cup pomegranate with the lemon juice and olive oil for a cancer fighting salad!
Another light and fresh option is a grain bowl. Here is a bowl you can try with wild rice or savory oats as the base.
Traditional Israeli salad
Ingredients
3 cups chopped tomatoes
3 cups chopped cucumbers
¼ cup chopped fresh parsley
2 Tbsp olive oil
1 teaspoon kosher salt
Instructions
-Combine all ingredients in a large bowl and serve.
-Eat as a side or add to grain bowl of your choice for a fresh
---
Audrey Caspar-Clark MS, RD, LDN, Doris Piccinin, MS, RD, CDE, CSO, LDN, Carly Roop, RD, CSO, MA, LDN, and Caroline Meehan, RDN, CSOWM, LDN, CDCES are the registered dietitians at the Abramson Cancer Center at Perelman Center for Advanced Medicine who specialize in cancer nutrition and provide information based on sound nutritional therapies to support patients throughout their cancer treatment.